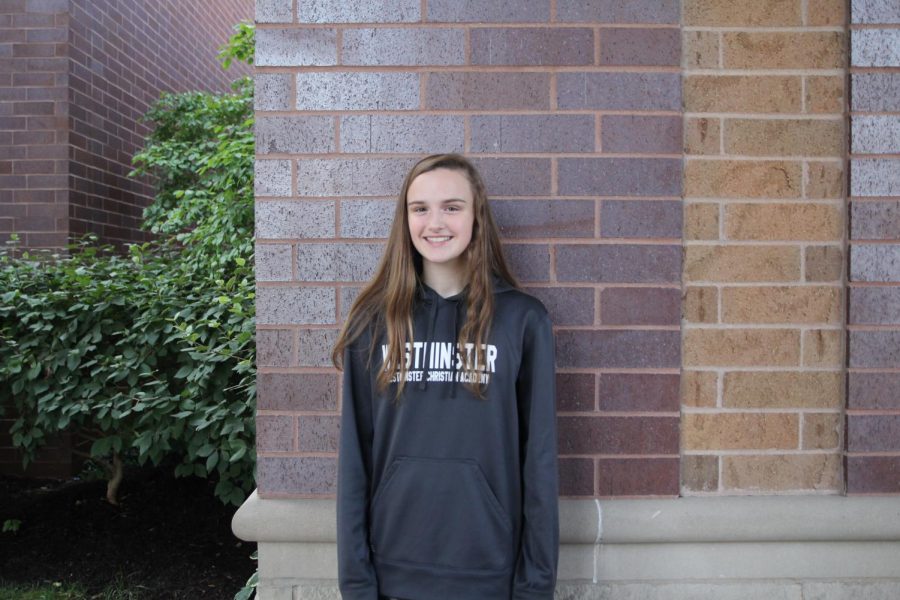 What does journalism mean to you?
Journalism allows me to combine my two passions of writing and sports. I have the ability to shine a light on certain sports or athletes that may go unnoticed. 
What are your interests?
I've played basketball my entire life, and I occasionally play the piano for fun.
What is your favorite quote?
What doesn't kill you makes you stronger -Kelly Clarkson (Friedrich Nietzsche)
What did you want to be when you were 5?
When I was 5, I used to either want to play in the WNBA or be a financial advisor like my dad.
What are three little things that brighten your day?
Seeing my friends, not having homework, and basketball training/practice.
Brooke Highmark, Co-Editor of Sporting
Nov 17, 2020
Nov 07, 2020

Boys Soccer Team Falls in District Finals Game

(Story)

Oct 29, 2020

"All In" Till The End

(Story)

Oct 19, 2020

Girls Volleyball Sweeps Ladue

(Media)

Oct 13, 2020

A New Face in Westminster Volleyball

(Story/Media)

Sep 21, 2020

The Man Behind the Screens

(Story)

Sep 18, 2020

Girls Volleyball Preview 2020

(Story)

Mar 25, 2020

COVID-19 Chronicles

(Media)

Feb 21, 2020

Girls Basketball supports Play For Kay in Pink-Out Game

(Story)

Feb 07, 2020

Girls Basketball Will Play in Visitation Tournament Next Year Due to Unforseen Circumstances

(Story)

Jan 25, 2020

Carlie Vick Helps Girls Basketball Defeat Parkway North in Landmark Victory

(Story)

Jan 14, 2020

Wildcats Complete the Evening Sweep with Two Big Wins at Home

(Story)

Jan 10, 2020

MICDS Rivalry Night Preview

(Story)

Dec 13, 2019

Westminster Welcomes New Varsity Girls Basketball Coach Kat Martin

(Story)

Nov 14, 2019

Emily Griege is the Only Girl on the Westminster Hockey Team, But That's Not a Problem for Her

(Story)

Nov 06, 2019

Girls' Volleyball Season Comes to a Close

(Story/Media)

Oct 29, 2019

Set Apart Through Prayer: How the Girls Volleyball Team is Spreading the Gospel

(Story)

Oct 23, 2019

Sophomore Ellie Johnson Takes on State Golf

(Story)

Oct 16, 2019

How FCA Is Bringing People Together

(Story)

Oct 04, 2019

Avery Stanfill Shines on Varsity Volleyball as a Freshman

(Story/Media)

Sep 30, 2019

Lemp Duo Begins One Last Run on the Field

(Story)

Sep 17, 2019

Two-Sport Varsity Athlete Returns For Another Strong Year

(Story)

Aug 29, 2019

Softball Team Follows Up Successful Season

(Story)

Aug 29, 2019

Girls Volleyball Preview

(Story)