Set Apart
Coach Kuhn leads the girls lacrosse team with her experience, passion, and commitment to the sport.
Jamie Kuhn, head coach of the Westminster girls lacrosse team, instills three major values into her players: toughness, fierceness, and grit.
"One huge thing is that I want them to believe in themselves and that they have what it takes. Lacrosse at WCA is an up and coming powerhouse, so it's important that the girls play with that mentality. I want females to believe that they are strong and capable to achieve anything they set their minds to," said Kuhn.
Coach Kuhn strongly believes that her Westminster players are called to be set apart from other schools in their conduct and character, as they have been hand picked by Him to be on the team and carry out their role of representing Christ and their school.
"Here we have a common ground that unites us all. We may have a different vision, but our end goal is to always point back to Jesus," said Kuhn.
Coach Kuhn's experience with lacrosse dates back to her freshman year of high school during the very first year that the sport became school sponsored and a part of MSHSAA.
"I became a Christian the summer before my senior year of high school and my entire friend group changed. Because of that, I started hanging out with my soon to be best friend, Melissa (current lacrosse coach at Eureka High School). She was a lacrosse all star and was getting recruited left and right. I ended up quitting soccer, and she kept asking me to play lacrosse. It took some convincing, but I finally bought a stick and decided I'd take a leap of faith. She ended up coaching me, playing catch, and teaching me strategy the entire school year until tryouts began. Thankfully, I made the team and really enjoyed every second," said Kuhn.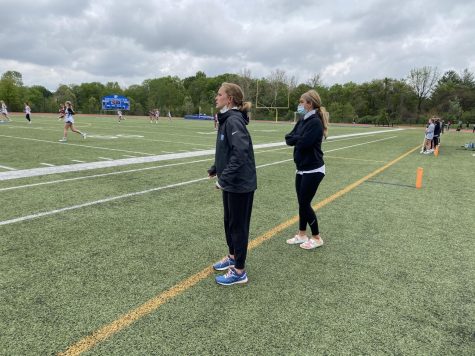 From there, Coach Kuhn's career took off. After high school, she played four years of lacrosse at Lindenwood University and began coaching for Westminster during her first year out of college.
While she enjoyed playing soccer and basketball throughout her childhood, Kuhn grew a passion for the intensity, technicality, and fast-paced atmosphere of lacrosse.
"Hard work and tenacity can change the momentum of any game. In my opinion, it's a sport where more hand eye coordination is needed than most sports. You have to be willing to put in a LOT of time and energy into stick skill, endurance, shooting, defensive form, etc. Lacrosse is a hybrid of ALL sports, which makes it challenging but so fun to play, coach, and watch," said Kuhn.
Coach Kuhn is grateful to be a part of the Westminster community where the faculty and players display uncommon, Christ-like character that cannot be found in many other schools.
"The people I work with, the athletes, the athletic department, and the coaches are incredible. As humans, we fail, but our community is SO quick to lend a hand and help dust the dirt off," said Kuhn.
However, the lacrosse girls have a special place in her heart.
"They are one of the best parts of my day. They are very selfless, kind to opponents, they work hard, and they have perspective, which a lot of high school athletes struggle with. I am so thankful to be coaching this mature, wise, and fun group of girls," said Kuhn.