Cats pull off a solid victory against Vianney
In the second game of the Lindbergh tournament, Jakobi Williams led the boys basketball team to a 57-42 win.
On Wednesday, January 13th, the boys basketball team faced their second matchup of the Lindbergh tournament against Vianney. The team recently came off a 57 to 51 win against Confluence two nights prior on January 11th. Feeling confident, they looked to stretch their record to seven and two after battling the Griffins.
Luckily for Westminster, their opponent did not obtain much size, so the loss of center Sam Vestal, junior, due to quarantine, did not knock them off their game too much.
The Cats started out strong in the first quarter. Breaking down the full court press with ease, the boys were able to get several easy points in transition, including layups from Caleb Thompson, junior, and Jakobi Williams, sophomore. On the defensive side, the Wildcats played a solid half court man-to-man, causing long possessions for Vianney, who only put eight points on the scoreboard by the end of the quarter. Casen Lawrence, junior, also started off hot, shooting three for three from the three point line and contributing nine of the Cat's twenty points in the first quarter.
Going into the second quarter of the game, the Griffins struggled to knock down shots, forcing several airballs right off the bat. Although Westminster took some time to get the offense moving, the guards dropped numerous dimes to cutters in the lane for open layups. The rest of the quarter was solid for both teams, and despite many fouls being called, the Cats were able to hang onto their lead of 32 to 21 by halftime with the help of Lawrence's buzzer-beating three pointer.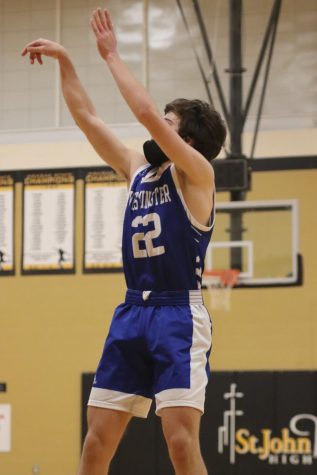 In the third quarter, Kobi Williams entertained the fans with a fast break dunk, not an unfamiliar spectacle for the talented sophomore. Westminster continued to handle Vianney's full court pressure and use their athleticism to get easy points in the lane. Williams continued to shine, scoring off and-1s and acrobatic layups in transition. Despite the loudly stomping Griffins fans who believed they still had a chance, the Cats maintained a consistent lead of 48 to 37 going into the fourth quarter.
In the last eight minute portion of the game, both teams had slow starts, as the score only increased by one basket until half way through the quarter. Lots of fouls continued to be called on both ends, but the Wildcats persevered, as Williams and Thompson continued to run the floor and put on a show with their finishes. When the final buzzer sounded, Westminster took home a 57 to 42 victory over the Vianney Griffins.
Williams ended the game with seventeen points, and Lawrence finished with five assists.
Westminster will face Lindbergh in their last game of the tournament on Thursday, January 14th at 4:30 at Lindbergh high school.