"All In" Till The End
The field hockey team falls in District playoffs.
After a very competitive year, the Westminster field hockey season came to a close after losing in the round of sixteen to one of the best teams in the area by a score of six to two. Although this loss to Lafayette was disappointing, the Cats, led by Coach Nancy Schmer, are proud of their accomplishments and ended the season with a record of six wins and four losses.
The team's theme this year was "All In." Even though a lot of the girls did not think they would have a season, this theme inspired them to continue working hard and give 100% at all times.
"Our common goal to play as one and play for Christ especially tested us throughout the circumstances to be fully committed and dedicated to our team and our season," said KK Pruett, junior.
One of the most unique features about the field hockey team is their diversity in age. The team contains five seniors, six juniors, three sophomores, and three freshmen. This rare balance makes the future look promising, as many of the young players will return next season with experience and chemistry already under their belts.
Westminster certainly made an appearance on the statistics leaderboards in the area. Mia Scheulen, freshman, is currently ranked fourth in St. Louis scoring leaders with a total of nine goals and eleven assists. Ellie Callier, senior, is ranked tenth with nine goals and two assists, and KK Pruett, junior, is ranked seventeenth with six goals and three assists.
Another dominant player on the leaderboards is Katie Huang, junior goalie. Huang is ranked second in saves with a total of seventy, fifteenth in solo shutouts with two, and sixteenth in save percentage with 78%.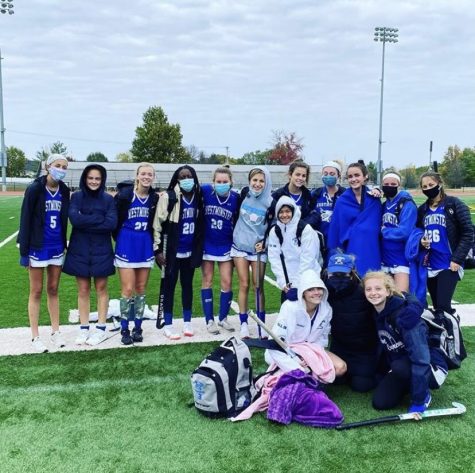 In district play, the Cats started off strong in the round of thirty-two, defeating Oakville three to zero. However, the next round loss to Lafayette drew their season to a close. Two of their largest wins of the season were a seven to zero win against Webster and a six to zero defeat of Lutheran South.
Even with the disappointing ending, the field hockey team does not have any regrets. The loss has motivated and made them excited for seasons to come where they will be able show off their unique talent and potential.
"It's sad to see the seniors leave, but the legacy they left behind will be remembered forever," said Pruett.