Laying the Foundation
The boys volleyball team has demonstrated the importance of culture over experience.
This year's boys volleyball team has rallied around one word: optimism. With a roster of only one senior and several freshmen, the beginning of the season has been a learning process, but the players have used every shortcoming to draw closer together and get better.
Leading the pack for the second year in a row is head coach, Keaton Adams. Coach Adams not only emphasizes positive coaching and reinforcement but also Christ-centered leadership.
"As a coach, one of our main roles is to support and be with the players–this is one of the most prevalent themes in the Bible as well—'God being with us' regardless of our performance. He chooses us and is continually in our corner," said Adams.
In addition to Coach Adams, the players have been able to look up to and receive instruction from Jacob DeMaggio, senior setter and captain. DeMaggio clearly leads the team in serves (156), points (85), and assists (161).
As the lone senior, DeMaggio also feels a responsibility to display leadership and maintain a Christian-like poise both on and off the court. Having the most experience, he has been able to act as a role model to the younger players in various aspects.
"I feel that with being a senior I'm there to provide advice and guidance to the younger players about anything volleyball, and also not involving volleyball," said DeMaggio.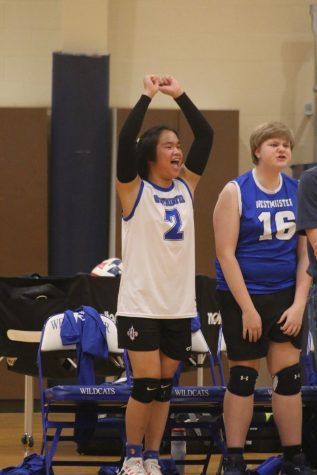 DeMaggio similarly believes in the positive culture of his team, especially for such a young team. The week after spring break, the Cats matched up against Parkway West, last year's state champions, and fell short 2-0. However, they didn't allow lost points to affect their composure.
"If this was probably any other team, their mood as a team would've just flatlined, so seeing my teammates so positive through the whole day was admirable to see," said DeMaggio.
Interestingly enough, the Cats faced the Longhorns again on April 5th and came out victorious by a score of 3-2 after a long and hard-fought battle on home court. Clearly, something is working for the Wildcats.
One of the strongest underclassmen thus far has been Owen Meehan, freshman libero. Although it is his first season on varsity, Meehan has participated in club volleyball in the off-season, making him a very experienced player. He currently leads the team in serve-receives (177), digs (123), and Avg/Gm (2.53).
"My season as a freshman on varsity has been quite amazing so far. I've created many friends through volleyball and I plan on making many more! I love the competitive environment and family like team bonding!" said Meehan.