Kharis Perona Makes Up Lost Time
After a season lost to COVID and an ACL injury, Perona bounces back and remains a respected leader on the girls lacrosse team.
The sixth leading scorer in the St. Louis area with 25 goals, Kharis Perona, junior, has dedicated her entire physical and mental well being to the sport of lacrosse, and her hard work is certainly paying off.
From the very beginning, she knew that lacrosse would be her sport.
"I started playing lacrosse in elementary school because my brother played and my dad coached, so they got me into the sport. From my first practice I could tell it was the best sport I had ever played because of how the game is so fast-paced and high scoring," said Perona.
However, during her freshman year, Kharis faced a devastating obstacle that every athlete fears.
"I tore my ACL a year and a half ago, and it has definitely been a difficult injury both physically and mentally. I'm fully recovered now but I still have to take care of it, which is frustrating," said Perona.
Not surprisingly, rather than giving up on her dreams, the unbroken athlete channeled her frustration into positive motivation.
"It still hurts occasionally during and after I play, but I just have to see it as a positive reminder that I am able to play again, rather than an unfair disadvantage. The day after I had surgery I remember being so frustrated that I couldn't move, and I made a promise to myself that once I could move again I would never take it for granted, so each day that I get to play lacrosse now feels amazing, even if I don't physically feel so. After being out for eight months and I truly cherish every second I get on the field," said Perona.
With this optimistic, persistent mindset, the lacrosse team as a whole has high hopes for the current season.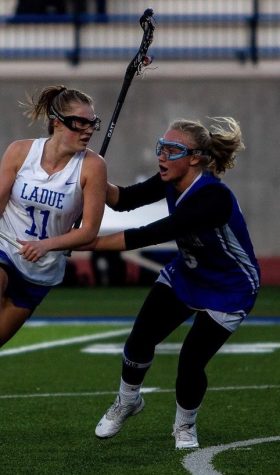 "This lacrosse season has been off to an exciting start and I definitely think the team has a good chance of making it far into the playoffs. It's been so fun to be out there playing with my team again and I'm so fortunate that despite COVID we're allowed to do so. My number one goal for the season is to make it far into the playoffs. Everyone on the team has really been stepping it up and it's been really exciting to see," said Perona.
In addition to team goals, Perona has set high expectations for her personal athletic career for both Westminster and beyond.
"I will play lacrosse in college, however, I have not committed yet. My recruiting process has definitely been slower than I would like because I was injured my entire sophomore year and there has been a recruiting dead period my junior year because of COVID, so I've had minimal exposure, but I do have a few options as of now," said Perona.
While success and recognition is certainly enjoyable, Kharis sees lacrosse as much more than just a sport, and she greatly values the lessons that she has taken away from it.
"This sport has definitely taught me a lot. It's given me the opportunity to work hard for something I really care about and have fun while doing it. I've had to learn patience, and gratitude, and complete trust is God's plan for my life," said Perona.