Athlete of the Week
September 27th-October 3rd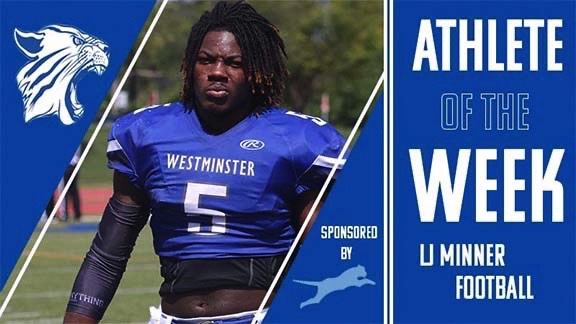 "Lj Minner" has been a common name in the Westminster halls for several years. While his performances on the football field are almost always exceptional, the senior running back put up impressive numbers in the Cats' win against Lutheran South this past Saturday, October 2nd, to earn him the title of "Athlete of the Week."
In the single game, Minner managed to collect a total of 200 yards—126 of them coming from his three rushing touchdowns and an additional 74 from one receiving touchdown. Not only was Minner an unstoppable force on offense, but he also greatly contributed to the Cats' defense, making seven total tackles and leading the team to a dominant 35-0, and much needed, victory.
Minner is currently in the midst of the recruiting process, as he plans to take his football career to the collegiate level. So far, he has only received noticeable interest from Missouri Southern State University, a division two program, but he is working hard to continue to maximize his exposure.
"This summer I visited schools and competed at nine football camps, and I'm trying to contact coaches and get them information such as my film, attributes, and GPA," said Minner.
In the words of Mr. Boesch, Westminster government teacher, "I'd put Lj Minner all over the field, on offense and defense. In fact, maybe he could play every position on offense and defense!"