Boys Basketball Defeats Priory—Recap
The Cats beat the Ravens by a whopping 26 points.
On Friday, February 19th, the varsity boys basketball team planned to once again dominate their nearby self-declared rivals, the Priory Ravens.
Earlier in the season, the Cats defeated Priory 60 to 49 on the opposing court. Now, they looked to repeat the success on their home floor. Coach Dale Ribble knew going into the game that if his players shut down the six foot eight Priory center and leading scorer in the St. Louis area, averaging twenty four points a game, Harrison Wilmsen, his team would be in good shape.
Wilmsen started out strong, opening up the quarter with a signature jab step three pointer in the face of Austin Vick, junior center. However, Vick returned the favor against the Raven's two-three zone defense by nailing a three on the other end.
The three point battle continued as Westminster sharp-shooting point guard Casen Lawrence, junior, sunk one in as well. The Cats kept up the high energy by using their disciplined defense to create their offense, as Caleb Thompson, junior forward, picked off a steal and layed in a two pointer off of a fast break.
At the end of the quarter, the Wildcats held a sixteen to eight lead over the Ravens.
The second quarter was quite the showcase for the Westminster boys. While they only allowed seven Priory points in the eight minute period with their man-to-man defense, on the offensive side they combined for a total of twenty three points to add to their current sixteen, making the score thirty eight to fifteen at half.
Of these twenty three points included a midrange jumper by Kobi Williams, sophomore guard, airborne reverse layup by Thompson, three pointer by Sam Vestal, junior center, putback layup by Lj Minner, junior post, and three contested three pointers by Lawrence.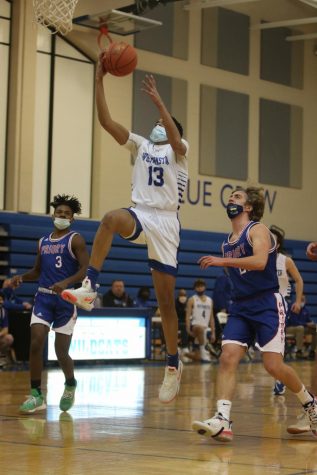 The third quarter continued the pattern of Wildcat dominance with one three each from Williams and Lawrence and a "dunk" from Vick. The lead remained by a spread of twenty six points, despite desperate efforts by Wilmsen to get to the free throw line. Going into the fourth quarter, the Cats led 57 to 31.
For the remaining eight minutes of the game, Priory's Myles Kee attempted to put the team on his back and attack the basket for some easy twos. However, no amount of effort could have closed the gap or given Westminster any worries. After a somewhat slow quarter containing several trips to the line from both teams, including Williams, Lawrence, and Jack Lemp, junior, as well as a block by Will Richards, junior, the scoreboard read 67 to 41 to send the Ravens home and add to the Cats' eighteen and four record.
Lawrence led his team in scoring with nineteen points, while Thompson finished with a double double; fourteen points and ten rebounds.