Junior Strong
The boys basketball team looks to build on successful season despite loss of valuable players.
Last year, the boys basketball team encountered a lot of success. They won the district championship against Priory, tied their conference, beat St. Mary's in the first round of state playoffs, and ended the season with an impressive record of 24 and five. However, these accomplishments were largely credited to star post player and senior, Brennan Orf.
Orf averaged 15.6 points per game including 8.3 rebounds, was named conference player of the year, first team all district, entered the 1,000 points club, and more. This year's team will surely need to step up in the scoring and rebounding aspects of the game to make up for this significant loss.
The team also lost Lane Davis, Bennie Anderson, Zack Benes, and Matthew George, seniors.
"There will definitely be a learning curve for all of us as we all take on bigger roles this year, but I think we have the potential to be really good," said Casen Lawrence, junior.
Luckily, the team has a large number of talented returners, such as team leaders Casen Lawrence and EJ Williams, juniors, who have been playing at the varsity level since freshman year.
"Casen and EJ are both great leaders that create a good attitude in practice that will hopefully transfer over to our season allowing us to achieve our many goals," said Sam Vestal, junior.
The basketball team certainly has high expectations for themselves, setting several challenging yet realistic goals.
"Last year we wanted to win the conference, district, and reach the final four. We did the first two and made it to the elite 8. Our goals are still the same this year, and the expectation is that we meet them, which is something that takes everyday in practice," said Lawrence.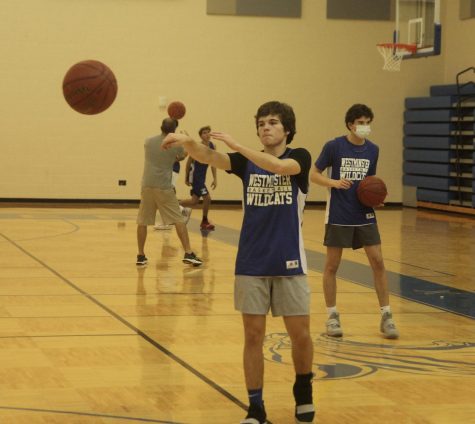 Fortunately, the team is stacked with talented, hardworking players who are dedicated to making these goals a reality.
"I think some strengths we have are athleticism, depth, and basketball IQ. I think we will be able to wear a lot of teams down with our depth and athleticism, and we really have some guys/coaches who really understand the game of basketball well," said Lawrence.
In addition to skill and commitment, the team has a unique sense of camaraderie due to the similarities in age and grade.
"The friendships that we all have with each other allow us to play well as a team when we are on the court as well as have fun off the court. These relationships and the team chemistry has been built up since middle school for many of us, causing us to stand out from other teams in the area," said Vestal.
No matter how talented players are, every successful team needs a good coach to guide them. For the Westminster boys, this vital role has been filled by Coach Dale Ribble for many years.
"Coach Ribble has built a culture for the program around hard work and loving each other daily. I also think that, personally, the senior leadership that was present during my freshman and sophomore year was terrific, and those guys also all played a huge role in building the culture here. It is our job now to continue that culture and to pass it on for the next group that comes," said Lawrence.
Clearly, Ribble puts much effort into building a special culture for the program and training the young men to become virtuous Christian leaders. He challenges and pushes the players every day to reach their potential, but he also takes the time to strengthen their characters and build relationships with them off the court.
With the new changes being brought about in America in regards to COVID-19, the certainty of the season may be worrisome. However, the boys basketball team is remaining optimistic and is continuing to prepare for every game no matter what.
"The COVID-19 regulations will definitely make our season much different than past seasons, but at the end of the day, we simply try to play ball and let everything else take care of itself," said Vestal.