2021 Girls Soccer Preview
The girls varsity soccer team welcomes a challenging schedule with help from talented underclassmen.
When last year's spring soccer season was cancelled due to COVID-19, players were devastated.
"I did not handle it well at all, and I know some other people reacted the same way. But after the initial shock I think a lot of us from the soccer team and other sports were motivated to work really hard throughout quarantine so that when we did get to play again, we would be better and stronger than before," said Annessa Shively, senior Arkansas women's soccer commit.
Luckily, the team will be supported by a combination of fresh new players and experienced veterans in their pursuit of success in the 2021 season.
"The varsity team this year consists of all grade levels with some talented new freshmen that will help us put our best foot forward against the high quality teams we face this season," said Maddy Moeller, junior.
"This season we have the toughest schedule we've ever had. However, none of us coaches are worried about it because of the immense leadership coming from our senior captains, Zoe Litner, Annessa Shively, and Grace Clement," said Judy Pritchett, head JV coach.
Often, with new players comes a new style of play.
"We're also a much more offensive minded team than we've been in the past, so it'll be interesting to see how that changes our playing style for this year," said Shively.
In addition to player leadership, coaches Dan Legters and Bill Lawrence will be devoted to guiding and preparing the girls to face their adverse schedule.
"Our coaches truly put their hearts into the team, which is reflected by the hours they spend walking us through drills and preparing us for every game," said Moeller.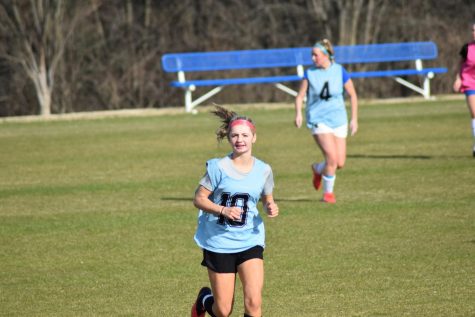 As well as being dedicated to the team, the coaches are also invested in each individual player.
"In my experience, whenever I am concerned about how I am playing or approach my coaches for further instruction, they always consider my personal strengths and challenges while giving me advice on how to improve my game," said Moeller.
This year, there will be a few changes to the girls soccer season. Similarly to the winter sport restrictions, there will be a fan limit for all games, and athletes will have to wear masks on the sidelines. Luckily, however, masks are not required when players are on the field.
Additionally, the team got moved down a class while could contribute to their success.
"For postseason, we moved down to class 2, so we have a good chance of making it pretty far," said Shively.