Back to Back
Boys basketball clutches the District title from MICDS as the underdogs.
After losing to the Rams twice in the regular season, the Cats were thirsty for revenge in the District five Class four championship game on Friday, March 6th. The scores of the two previous games were 61-54 and 41-40, so Westminster knew that victory was clearly within reach.
Last season, the boys won Districts after defeating Priory 58-46. They then went on to beat St. Mary's in sectionals 72-50 but lost to Cape Notre Dame in the elite eight 59-53. The team full of sophomores was not satisfied and planned to build onto their success in this year's season, as juniors, not backing down to their rivals of MICDS.
The first quarter was all around solid for both teams. The Cats came out of the gates strong with a clever curl-cut play for Kobi Williams, sophomore, to lay in an easy two points. Williams continued to showcase his talent and athleticism by putting his defender on skates and nailing a midrange jumpshot. Caleb Thompson, junior, also contributed to the charge with a hesitation move and tough finish on the offensive end. At the end of the quarter, the Rams led 12-10.
In the second quarter, Westminster was able to take their first lead of the game after EJ Williams, junior, dished Austin Vick, junior, a dime for the and-1. The younger Williams brother then hit a signature three pointer to put his scoring total at seven points. The quarter then took a physical turn, as MICDS' man-to-man defense forced a long WCA possession that led into a turnover; the game became filled with loose balls, more turnovers, hard fouls, and players from both teams diving all over the floor. Vick continued to help out his team with rebounding against the monstrous Ram's players and made the 1-and-1 free throws to put his team up 24-18 at the half.
After halftime, MICDS decided that it was time to turn up the heat. Their quick, physical half court defense resulted in a whopping 85 second possession for Westminster. Casen Lawrence, junior, stepped up after a relatively silent first half and drained a deep three pointer to fuel his team with energy. The physicality of the game advanced, as MICDS' Will Kacmarek crashed hard into the bleachers and Westminster's Matt Buchanan, junior, took a charge. After a three pointer by Hasani Spann to close the gap to four points, Vick and Buchanan each hit a three to put the Cats up 36-27 at the end of the third quarter.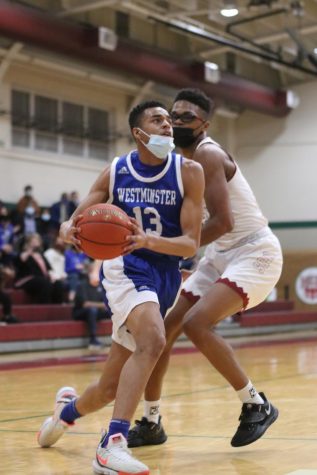 Finally, the home stretch began as MICDS and Westminster entered into the fourth quarter. The Cats showcased their team chemistry, as a Lawrence to EJ to Kobi pass chain led to a transition layup, but Nick Roper answered with a three which was followed by two consecutive timeouts, one from each team. The refs suddenly became trigger-happy with their whistles, as Kobi and Lawrence hit both free throws off 1-and-1s, MICDS' Sam Wienstroer hit an and-1, and both Brandon Mitchell-Day and Hasani Spann, both valuable players, fouled out for the Rams. With three minutes and fourteen seconds remaining in the game, MICDS called a timeout, and the Cats led 48-42. The back-and-forth game continued, as Roper and Wienstroer put their team on their backs with threes and layups. After another MICDS timeout with just over eleven seconds remaining, Lawrence sank two free throws to seal the victory with a score of 60-57.
Kobi Williams led all scorers with 25 points, and both Lawrence and Vick chipped in ten.
The Cats will now follow in suit of the girls team and advance to play Lutheran St. Charles on Tuesday, March 9th at 6pm.