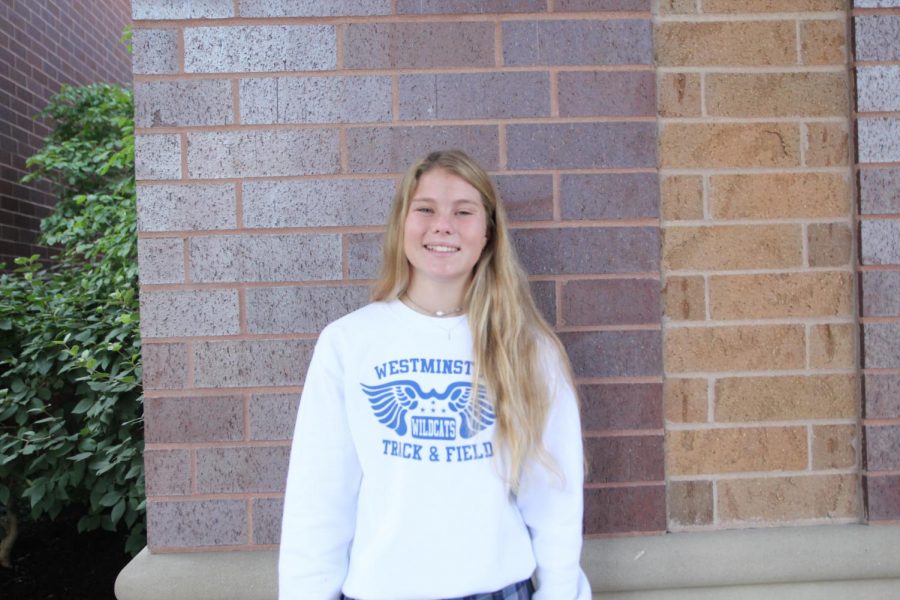 What does journalism mean to you?
Journalism is a way to use my voice to share the truth. I believe that at its core journalism is the pursuit of the truth and therefore everything that is produced by our organization should reflect that ideal. As a profession, journalism is reaching a crossroads, to either do what is right or to do what is easy. That is why I believe student journalism is so important, because it equips the next generation to lead the profession of journalism down the right path.
What are your interests?
I (obviously) love journalism and practically live in the newspaper room but other than that I run cross country and track and also compete on the swim team. Outside of school and sports, I love politics and love to read about political history as well as about basically anything else. I also am a self-described iced coffee aficionado so you usually can find me at Kaldis or another coffee shop. When I'm not at school, sports, or Kaldis, you might find me racing go carts or riding atvs, and probably driving way too fast doing either.
What is your favorite quote?
"Find your voice and say something significant" -Scott Vonderbruegge (aka our wonderful advisor)
What did you want to be when you were 5?
I wanted to be a professional soccer player, but clearly that did not work out. Freshman year I realized I only liked the running part of soccer and so I joined the cross country team and haven't looked back since. But, I still love soccer and will debate anyone who believes that Messi is better than Ronaldo because they are wrong!
What are three little things that brighten your day?
sunsets, the color yellow, a really good iced coffee
Isabella Francois, Managing Editor in Chief
Mar 25, 2020

COVID-19 Chronicles

(Story/Media)

Mar 05, 2020

Faith and Facts Over Fear

(Story/Media)

Mar 03, 2020

What's the Deal with the Debt at Westminster?

(Story/Media)

Feb 21, 2020

Sophomore Boys Beat Senior Boys in a Shocking Tug O'War Upset

(Story)

Jan 28, 2020

Members of the Newly Formed WCA Thespian Society Travel to Kansas City for a Conference

(Story)

Jan 10, 2020

Not So Happy Holidays

(Story/Media)

Dec 06, 2019

Cross Country 2019

(Media)

Nov 11, 2019

WCA Journalism Students Gain Insight into their Rights at the Heroes of the First Amendment Conference

(Story/Media)

Oct 30, 2019

Seniors Make an Impact Through Faith in Action

(Story)

Oct 15, 2019

What is Impeachment Anyway?

(Media)

Oct 08, 2019

Inaugural Homecoming Weekend was a Success 

(Story)

Sep 24, 2019

From Student to Social Media Coordinator

(Story)

Aug 13, 2019

Lights Out, School's Out

(Story)

Apr 02, 2019

The Fall of Feminisim

(Story)

Mar 11, 2019

Leadership Changes

(Story/Media)

Jan 29, 2019

Is St. Louis Really "Better Together"?

(Story/Media)

Oct 26, 2018

Cuplifiting Coffee

(Story)

Sep 24, 2018

Chapel: Not a Routine

(Story)

Sep 05, 2018

Well Worth the Wait

(Story)

Feb 07, 2018

18 to Look Out for in 2018

(Story)

Feb 01, 2018

For Some WCA Students, Safety First Means Spirit Last

(Story)

Nov 17, 2017

What is Net Neutrality

(Story)

Nov 06, 2017

Painkiller Culture

(Story)

Nov 03, 2017

The Bridge in the Corner

(Story)

Sep 01, 2017
Apr 07, 2017

There Isn't a Pay Gap After All

(Story)

Mar 28, 2017
Mar 05, 2017

The Top Five Best Coffee Shops Besides Starbucks

(Story)

Jan 23, 2017

Breaking News? More Like Breaking Down Society's Mental State

(Story)