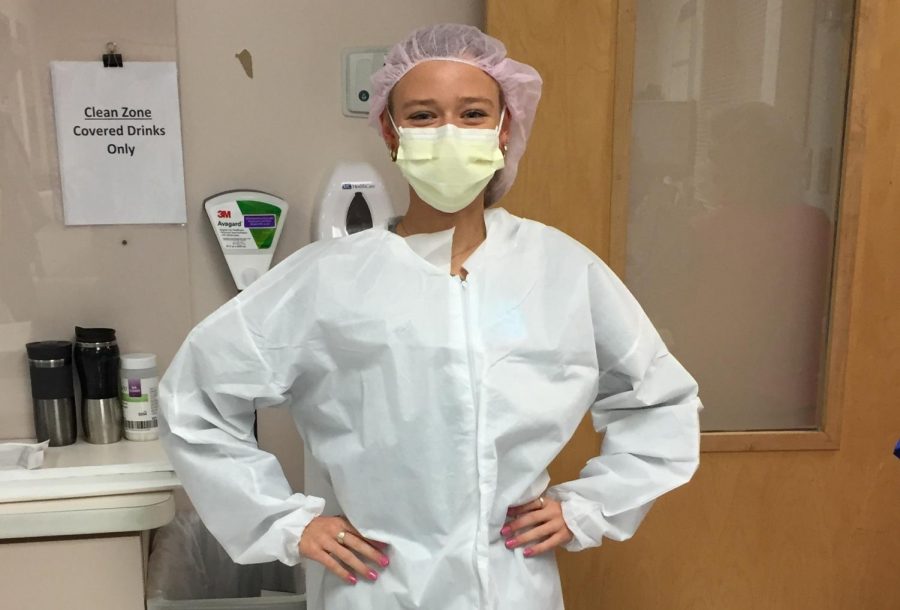 Lily Duda Gains Invaluable Experience in the Interventional Radiology Unit at Missouri Baptist Medical Center
From the time she was in elementary school, senior Lily Duda has always been interested in the medical field. So, when the time came to sign up for senior service, Duda was one of the first in line to sign up to work at Missouri Baptist Medical Center. 
"I volunteer in the interventional radiology unit at Missouri Baptist Medical Center. I usually help the nurses with small tasks that need to be done, such as folding blankets and signing in patients. I also get to observe procedures," explained Duda. 
One of the most exciting parts of Duda's work at Missouri Baptist is observing procedures because it shows her how she might be able to help patients in the future. 
"Last week, I watched a lung get drained of fluid [a thoracentesis], and this week I observed a noninvasive procedure on the spleen," said Duda. 
However, the procedures would not be possible without the fantastic staff at Missouri Baptist. Interacting with and learning from the team is what makes Duda's experience different than what you can learn by studying a medical textbook or watching a video.
"My favorite part has been meeting nurses and doctors and seeing what they do on an everyday basis," Duda continued. 
Duda has always been passionate about the service aspect of the medical field, which is why her work at Missouri Baptist is so fulfilling. She not only can learn from some of the best medical professionals in their field but also experiences all of the behind-the-scenes work that goes into caring for patients. Her time at Missouri Baptist so far has shown Duda that the medical field is much more than just procedures and operations. The people are what make the work in the medical field so amazing and life-changing because, without doctors and nurses, many of us would not be alive today. 
"Serving is so fulfilling when you are passionate about what you are doing," Duda concluded.