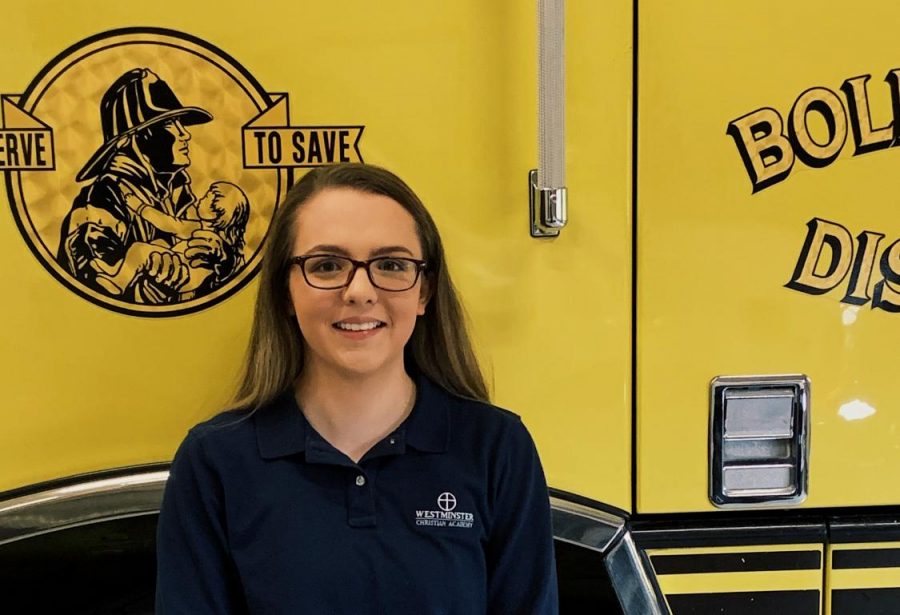 Hannah Carter Makes Strides in Fire Education at Boles Fire Protection District
While many seniors serve at elementary schools helping out in the classroom every Thursday morning, Hannah Carter combines elementary education with emergency response training through her work with the Boles Fire Protection District and elementary schools in that fire district.  
"Basically, I help wash the trucks and make sure the trucks are stocked with the correct equipment, I make sure the oxygen tanks are functioning correctly and have enough air in them, I help give presentations on fire safety to elementary school kids, and I get to run calls with them and bring them the things they need and watch," Carter said.  
Carter has always been interested in helping others, and even from a young age, she knew she wanted to do something with medicine. However, she did not want to serve at a hospital along with many of her classmates and instead wanted to experience a different aspect of the medical field. So, when she learned about the opportunity to serve with the fire department for senior service she signed up. 
"I've been interested in going into the medical field ever since I was in elementary school, so I thought it would be really cool to get to explore the emergency medical field a little bit," she continued. 
Working with the fire department has also allowed Carter to inspire younger girls who might be interested in working there in the future. Firefighting is a male-dominated field, where only four percent of firefighters are women, according to the U.S. Department of Labor. So, by seeing girls like Carter presenting on fire safety, elementary-aged girls can be more motivated to consider firefighting as a career.
"So, I'm the only girl that works with them which is really cool, and the other day we went to an elementary school to give a presentation on fire safety, and all the guys walked into the room first, and I came in last, and all the little girls eyes lighted up, and they started waving at me which was a really cool experience," Carter explained. 
Also, occasionally, Boles Fire Protection has preschools or elementary schools come to the station. Carter and the other firefighters give them a tour of the station, let them spray water hoses and climb on the trucks, and then teach them about all the equipment firefighters use. 
This type of education is incredibly important because it prepares elementary school students and even younger children to be aware of the dangers of fire and ensure that they have a plan with their families in the case of an emergency and that they know how to get out of their houses safely.
"I think it's important to teach fire education because it keeps not only the kids safe, but it also keeps the firefighters safe because they don't have to risk their lives and go into a fire to look for someone if everyone is already outside together," Carter concluded.