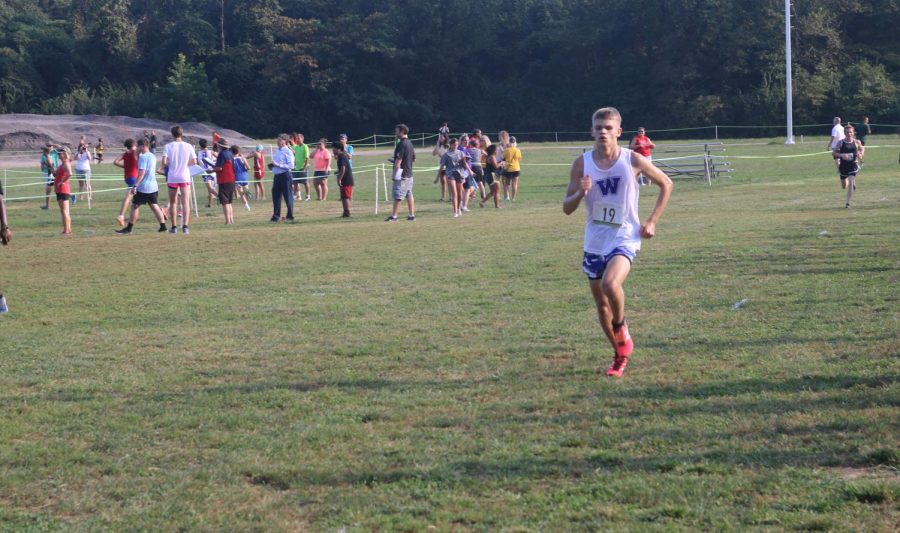 Podium Hunting: Cross Country State Preview
November 8, 2019
On Saturday, Nov. 2, the boys' cross country team rolled through districts taking first place in the meet by a margin of 25 points. By placing in the top two, the team has qualified for the state meet, and even though the boys faced many steep hills throughout the race, they ran well and got the job done. 
"I was extremely happy that we were able to place so well in districts, especially with how tough the course was," said junior Thomas Gorline. 
Ever since the 2014 season, there has not been a year the boys' cross country team has qualified for state. WestNewsmagazine even covered the team's reign of dominance in a recent article published on their website. With the race taking place this Saturday in Columbia, Missouri on the new course, the team has set their focus on the race. The team is excited for yet another chance to compete against the best in the state, and everyone is anticipating a strong performance from the Wildcats. 
"Going into this race, I know that I must do everything I can to help us place high. I would love to win, but if not, we are hoping to finish on the podium," said Gorline. 
On the girls' side, the team didn't place in the top two at districts, so, unfortunately, they won't be moving on to the state meet this year. However, senior Ava Hollmann conquered the hills and the cold, finishing in 2nd place as an individual. As the top 15 individuals at districts automatically qualify for state, Hollmann has now set her focus on racing this Saturday. 
"As a senior, this will be my last high school cross country race. However, I am trying to not put too much pressure on myself, because after all, it's only about 20 minutes of my life. Whatever happens, it's not the end of the world. So, I am planning on just going out there and running my best," said Hollmann. 
On Saturday, one thing is certain: Westminster cross country will push themselves to their physical limits. Whether that limit will result in a podium finish for the boys or a top 25 finish from Hollmann remains to be seen. Nevertheless, the runners do not run for the accolades, the medals, or the trophies. They run for the glory of God, for each other, for their coaches, for their parents, and for the simple enjoyment of running. The state meet is a culmination of the entire season, but it is ultimately the celebration of the runners and how hard they have worked the past months. After all this preparation, the Wildcats are ready. The question is: how ready is the rest of the state?