2021 Boys Tennis Preview
New young prospects hope to add to the tennis team's success this season.
Similar to the rest of the spring sport athletes, boys tennis was disappointed to not have a season last year due to COVID-19. They are led by Coach Madelline Bishop, or better known by the players as "Cojo," as well as Coach — Reilly who also coaches girls tennis. In years past, the boys tennis teams have been decent, but they have not won many titles. However, this year they are looking forward to the completion of their season and are hungry for matches and possibly a district title.
"We were all looking forward to [last] season. But, it also makes us appreciate this year even more. I think that more passion in the team was built up from not playing last year, and this season we get to play that out," said Griffin Alm, junior.
The team is expected to have a prosperous season with upperclassmen returners Seth Noel and Matthew Kinney, seniors, and Griffin Alm and Daniel Stengel, juniors, leading the program to a winning season. Both Noel and Stengel have killer serves that are difficult for opponents to return, giving them an edge against the competition.
There are also many underclassmen who will add to the team's success this year, including Tyler Collison and Evan Jordan, sophomores, and Elliot Campbell and Stephen Spencer, freshmen. These underclassmen are anticipated to help the team because of the immense talent that they already bring to the table. On top of that, they will have two or three more years to develop their skill and put the Westminster boys tennis on the map.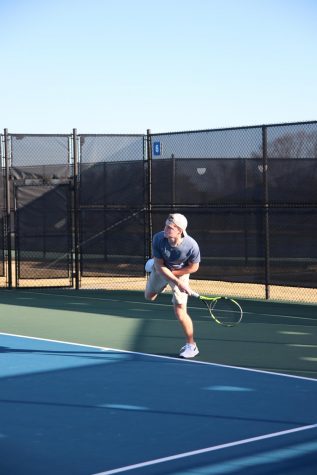 "These new underclassmen are really hard working boys with a lot of talent, and having them on the team brings a lot of depth. In addition to that, they have really good attitudes which makes them a fantastic addition to the team," said Caleb Legters, junior.
The seniors will be leading the team through their hard work and experience on varsity. They are looking forward to the completion of their seasons and ending their highschool careers on a high note.
"I am looking forward to making the best of what is yet to come, and even though I am not an official captain of the team, I want to do my best to encourage the other guys whether they are up or down in their matches, and I want to make them feel welcome on the team. All the guys have improved dramatically in the off season, and I can't wait to see how they do on varsity," said Kinney.