Doubles On and Off the Court
Hailey Colley, senior, and Avery Surber, junior, play their final matches as doubles partners.
On Saturday, October 10th, Colley and Surber dominated their opponents, winning both sets 6-0 in the tennis sectionals against Lutheran High School St. Charles. Winning this match qualified them for state, so they are excited to be playing one final match together. Having been doubles partners since Surber's freshman year, this is their third and final year playing side by side.
When Avery Surber was a freshman and Hailey Colley was a sophomore, they both made the varsity team. Quickly, they gravitated toward each other and became good friends and talented doubles partners. This year is the opportunity that they have been waiting for to show their undeniable chemistry due to their strong friendship outside of the sport.
"The friendship Hailey and I have outside of tennis plays a big role with how we play. We know each other so well that it makes our chemistry on the court ten times stronger. Whenever we play it is almost like we know how the other person will react without having to communicate. Having a doubles partner that you are so close with and able to work with so well is a complete game changer," said Surber.
Not only does their off-court friendship help with communication, but it also helps them both pick each other up when they are down because they know how to handle each other. For athletes, it is especially important to have someone who knows how to help push you toward success.
"I think my friendship with Avery definitely helps with our chemistry on the court. She's like my little sister and we've been best friends for years now. Honestly, it's really hard to play with someone else besides her because no one understands my mindset like Avery does," said Colley.
Colley and Surber are looking forward to representing Westminster at the state finals, and they are the first from the girls tennis program to qualify for state since 2010. Therefore, they will be prepping and training all week to hopefully take the state title.
"We plan to keep playing our game the way we always do and get some solid hitting in before state. We don't know the competition we will have so we are trying to go in with a positive mindset and will be working hard all week," said Colley.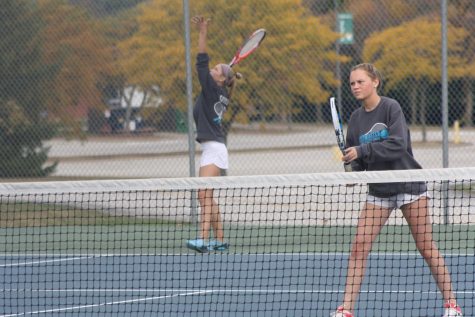 Both Surber and Colley went into the match feeling nervous due to the pressure of being the number one and number two players on the team. They were expected to win, which added to the stress of the game. Despite any nerves, they took control of the game and were excited about the victory in the end.
"It felt amazing to win and qualify for state because all of our hard work is finally paying off," said Surber.
In the midst of a high level game like sectionals, emotions and adrenaline run high, but both players kept their eyes on the prize and currently feel very accomplished.
"It was definitely emotional for Avery and I since it's our last season playing together, but despite that we are super happy we have gone this far in our tennis careers. It's definitely a win to remember and I'm super excited to play these few matches with her," said Colley.
Regardless of how they play at state, it is clear that these two will go down in Westminster history as some of the best doubles partners to play girls tennis. Now that Colley will be graduating, it will be different for Surber to play alongside someone else. They will both miss each other's presence on and off the court immensely next year.
"I am going to miss Hailey so much next year. I don't know what I'm going to do without her, and it will feel very weird to not be playing next to her next year, but I'm grateful for the opportunity to have played with her these past three years," said Surber.
Colley is equally going to miss Surber and the sport, but she cannot be more excited for the things that Avery will do next year.
"I really am proud of her and how far she's come this year, and I'm just insanely happy that she's able to experience this. I'm sad I'm leaving her next year, but I can't wait to hear the amazing things that she's going to accomplish. I'll always be rooting for her success," said Colley.
Colley and Surber are the perfect duo to succeed in athletics based on their athletic ability, chemistry, and friendship. Westminster is blessed to have them representing the rigor, commitment, and love for the sport of tennis. Next stop: state.