Giving Thanks Through Service
Westminster teachers dropped off their kids with WCA student volunteers for a fun pre-holiday event: Wee Wildcats.
This week, students at Westminster helped out teachers and faculty by performing a selfless act of service. Every year around the holidays, Westminster Student Council holds "Wee Wildcats," a day where teachers can drop off their children with some of their favorite students and take some time for themselves to shop, go to brunch, or simply rest without kids. These volunteers entertain the children for a few hours with games, time on the playground, movies, crafts, and more at Covenant Church while the parents have peace of mind knowing their kids are having fun.
"As parents, we love the kid-free time to go out to breakfast, play board games, prepare for Christmas, etc. Our kids also love going as it is a chance for them to play with other kids and be active, especially since the cold weather has kept them indoors more lately," said Gina Butterfield, biology teacher and parent. 
Providing teachers and faculty at Westminster with a group of free babysitters who are excited to serve is just one reason why STUCO and many volunteers at this event love participating every year. Another is a love for babysitting kids.
"My favorite part of Wee Wildcats is watching all the kids play with and interact with each other. I also love getting to know all the teachers' kids because it's funny how a lot of them are like their parents," said Molly Kate Bugh, junior and Wee Wildcats volunteer.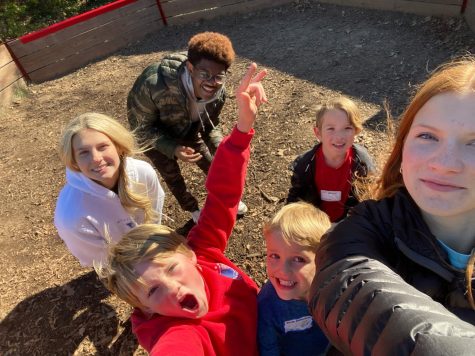 Parents also love the fact that their kids are getting to know their co-workers' kids (and the kids' future classmates) at such a young age. While they played kickball, watched Charlie Brown, made Thanksgiving crafts, and had paper-airplane-throwing competitions, these kids were making lasting memories and friendships that their parents definitely appreciate. 
"I also especially love that my boys are starting to get to know other future Wildcats that they may be in school with at WCA," said Butterfield.
For the kids, parents, and volunteers, this event was an all-around success (as it has been in years past.) Student council's service committees are already thinking of plans for a repeat of a day like this sometime in the near future to provide another opportunity to give these parents a day of rest and holiday preparation, possibly before Easter. 
"We had a really good turnout of kids and a lot of people interested in volunteering so I definitely could imagine STUCO doing this event again next semester or in the spring," said Bugh, who also led STUCO's committee in planning Wee Wildcats. 
Overall, Wee Wildcats has always been a fun time for students to get involved and to help out some deserving Westminster faculty in the process. The kids have a blast, the teachers get a few hours to themselves, and the volunteers get one of the most engaging service experiences Westminster offers.