Ice Cream Parlor Victory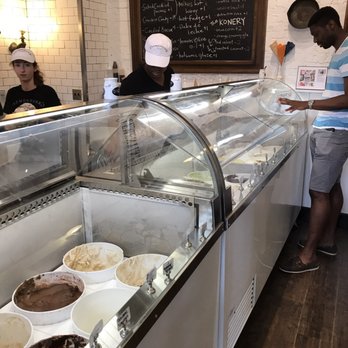 It's interesting to find fun and exciting places to eat and/or visit. In Clayton, there is a strip on coffee shops, oyster bars, and an ice cream parlor named Clementines. This was the first time I have been to this side of Clayton and it was cute, quaint, and cozy. The inside of Clementine's is clean with white walls, blue tiled floor, glass containers (holding the ice cream), chairs and tables that looked like they were from Paris, and an outside area with benches. The ice cream parlor is old fashioned with extravagant flavors. Flavors such as Midnight Pleasures (which is a combination of all types of chocolates), Front Porch Mint, Gooey Butter Cake (which has chunks of St. Louis's notorious  cake), and so many more. I had Midnight Pleasures and Kickbutt Chocolate in a waffle cone. I almost melted at its presentation and flavor.
This delicious treat is perfect for all ages. There were also many dogs sitting with their owners slurping a bowl of refreshing water that evening. This ice cream shop called everyone from Washington University to married couples with kids to come take part in this snack. Every person I saw walk in and out of Clementines had a smile on their face after devouring a ice cream cone or going to get one. This place even had tubs of ice cream so you can even take home!
The only minor malfunction that ruined the night was an owner who forgot to clean up their dog's droppings. This problem was resolved very quickly to make sure no stench got in the shop. This experience was an amazing one and I would highly recommend if you need a spot to take friends, families, or maybe a date. Ten out of ten.