During lunch, it isn't uncommon to find students passing the time talking, studying or playing games such as nine square, wall ball, or more recently, playing poker. Texas Holdem, a commonly played version of poker, has worked its way into the walls of the Academy. 
"It was a really hot day and they wouldn't let us go outside […] I had some cards in my backpack. […] Abel Tucker had the idea to play poker so I brought some chips […] but no we're not gambling or anything like that, just good clean fun" said Charlie Mathis, Junior.
Although poker usually has a negative connotation, especially in Christian circles, these students have found a way to participate in a fun way with a driving impetus of enjoying each other's community. 
"I think it's really fun to be doing something different than just sitting on cell phones. It's a good way to have something fun and different, and as long as they're not breaking any rules, then why not?" said Mike Rohlfing.
Even so, the students did receive some backlash from teachers and staff members. They play in the upstairs fishbowl, right outside Luke Davis' classroom where many teachers spend their lunchtime. Because of this, many teachers were quickly informed of this, and while some do not mind this, such as Stephen Hess, Mike Rohlfing, and Marjan Kempen, others disapprove of their involvement. 
The group sought to plead their case on the basis of truth that because no money is involved, they cannot be accused of gambling and that it is merely a form of fellowship that helps them take a break from schoolwork during the day. With the assistance of Kempen, Mathis and Isaiah Smith appealed to Dan Burke.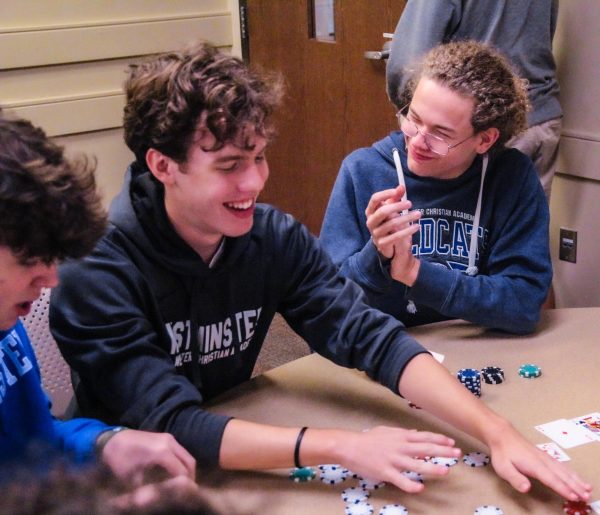 "Burke said [he does] agree it's not gambling if there's no real money involved (which there's not) and so we got clearance" said Mathis. 
Though understandable why a game of poker might not be the best image for Westminster, these students have not dishonored WCA's beliefs by their actions. Rather, they have diplomatically dealt with disapproving eyes and cleanly laid out their argument. 
These students took a gamble by playing poker openly during lunch, and though they received mixed reviews, they will continue to play.