Dads and Daughters Hit the Dance Floor
Westminster's first daddy-daughter dance was a huge success!
Yesterday night on April 14th, Westminster parents hosted the first ever senior father-daughter dance. Twelfth grade girls and their dads gathered at Fox Run Country Club, a picturesque golf course and event venue in Eureka, to dance the night away with their dads to celebrate the end of their time at Westminster. After a buffet-style banquet dinner, dads and daughters hit the dance floor together to dance the night away.
For most of these seniors, the event was both sweet and sad as it represented the end of their time at Westminster, and they got to celebrate that time with some beloved family members and friends. For many, it was even a night that brought nostalgic childhood memories to the surface.
"I've been to several daddy daughter dances in the past, and this one was definitely bittersweet just knowing that I am going to be leaving home in a few months," said Lizzy Crowe, senior.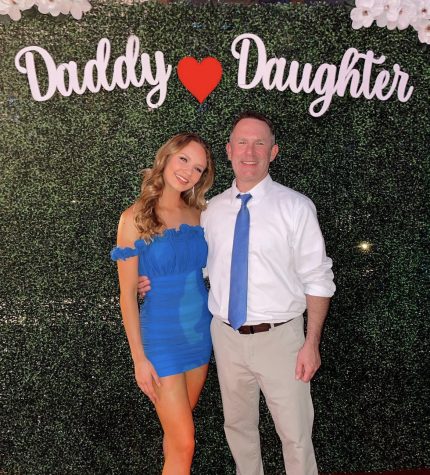 With the DJ from other fan-favorite senior dances, Utopia Experience, hyping up the crowd, dads attempted to learn some iconic dance moves throughout the night. Some showed off their moves in the middle of the dance floor, while others opted to watch and learn from the sidelines.
"The funniest part of the night was seeing my dad try to do the whip (which didn't go too well)," said Crowe. Crowe's dad was one of the many dads thrown into the dance circle multiple times, always ready to follow the lead of the DJ. Lizzy has been dancing her whole life, so he must have picked up on her technique along the way. 
However, while the dance moves were fun, the dad-daughter style at the dance was top-notch. While some groups of girls chose to wear long, flowy dresses, others stuck with the typical homecoming style short dress. For most of the dads, it was a suit and tie to match their daughters' formal attire, but one group even decided to kick their style and coordination up to the next level. 
"We found the idea to have all the dads wear fun, patterned suits to daddy-daughter from a girl on Instagram a while ago, and we told our dads to each pick out the one that they wanted to wear online. Then each girl got a dress to match the colors in their dad's suit!" said Lauren Sowers, senior. 
From flamingoes to American flags, these suits were a fun pop of color to see on the dance floor, and it was cool to see the creative spin each group put on their outfits since there was no specific dress code besides formalwear.
All in all, this was a night to remember for senior girls and their dads alike, and a dance like this was a perfect way to bring the year to a close.