Freshman Alexis Hackmann Earns Varsity Spot
Many were shocked when two freshmen made this year's varsity tennis team year over three seniors on Friday, August 14. However, talent trumps seniority every single day of the week. 
"I was not expecting to make varsity this year because I just came off of some serious health issues and was out for 8 months," said Alexis Hackmann, freshman, "I only practiced a month before tryouts."
One thing is for certain, Alexis will never forget the moment she stepped onto the court on that first day of tryouts on August 10, 2020.  She will never seem to get out of her head that churning in her stomach and the nerves that she felt on that 95 degree day.  
"I was so intimidated by all of the seniors, they seemed like they knew what they were doing, and I thought I did too, until I started hitting with the number one player on Varsity from the previous season," said Hackmann.  "The vibe was so real and intense, like something I had never felt before.  My stomach was in my throat as I could see the coaches watching me from a distance."
You have never truly experienced the anxiety and the unknown that goes on during tryouts week until you have participated in it.  It truly is one of the most nerve racking weeks of the entire year, especially for those who just came off of junior varsity not knowing if they are good enough for the varsity squad.
"I have been playing tennis since 7th grade, you could say I was experienced.  But when I walked onto those courts, all of my confidence seemed to fade," said Hackmann.  "But as I started playing, I remembered that the only person that could control my nerves was myself, and I had to realize that and calm myself down."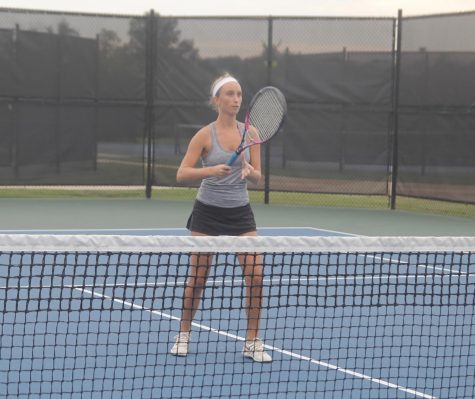 The sweat was dripping down her face and she began her challenge match.  You could hear the screeches of shoes on the courts, as if they were running for their life.  A few days later, the select number of ten players were announced for the Varsity squad, including Hackmann.
"I was absolutely shocked when I saw that I made Varsity over those 3 seniors.  I knew they were mad and I did feel bad because as their last year to play, they never got to know what the Varsity feeling was like.  At the same time, I felt so proud and accomplished of the hard work that I put into this process," said Hackmann.