Who Can Lead the Boys Swim Team to Success?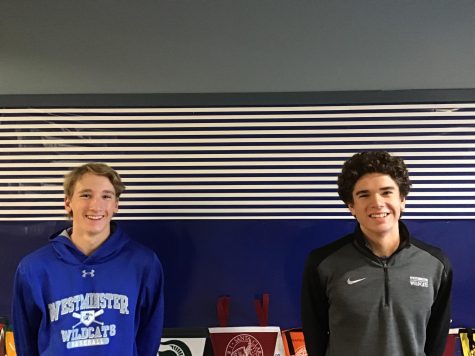 The 2020 Wildcat swim team is full of veterans, including seven seniors and seven juniors. These upperclassmen have already displayed strong leadership in the few practices that they've had. Jacob Schloss, Hugh Muschany, and Sam Parker Stillman have specifically stood out through their ability to lead by example.
Jacob will look to expand on a great sophomore season. In 2019, Schloss went to state in the 4×100 relay. The relay remains a strong event for the team, as all four participants from last year are returning. Jacob continues to work hard day in and day out to maximize his potential. 
"I make sure to finish every workout, so I can improve my times," said Jacob Schloss, junior.
Jacob is a leader on the team, always trying to encourage his teammates to work harder. In the swim team's time trials, Jacob swam an impressive 5:58 in the 500 yard freestyle. This time led the team by nearly 20 seconds. He also swam his 50 freestyle in 24 seconds, a superb time, leading the team once again. Jacob is always one of the first swimmers in the pool. He consistently sets the standard for the rest of the team.
Hugh Muschany started swimming his sophomore year, and he was a strong swimmer from the start. His impressive sophomore season nearly led him to state. His junior year, he made it to state in the 4×100 relay. Hugh is a phenomenal freestyle swimmer and has been named a captain by Coach Kent Kehr.
Sam Parker Stillman, senior, is similarly an exceptional hard worker. His main stroke is the breaststroke. He is a strong leader on the team who always shows the underclassmen how to act whether in a meet or practice. Sam is also a captain this year.
This year's boys swim team is promising, and they are working towards a strong showing at state.