Boys Basketball Captures District Championship with Third Victory of the Year against Priory
Ah, the thrill of victory. It's the sweet taste of Priory Rebel tears and ankles left behind on the Westminster hardwood that fans will recall from Thursday night for years to come. This was no Town and Country Cup.
No, this game was for something much bigger, much more important: a District Championship. For Priory, it was about revenge. Sure, they were going to lose the season series no matter what, but who wouldn't trade two losses for a District Championship? For Westminster, it was about utter domination. It was about a three game clean sweep of the school's most hated rival from just up the interstate. It was about finally putting it all together.
The boys basketball team defeated Priory 58-46 in the Class 4 District 4 championship game on Thursday night. It was the Wildcats' first district title since 2015, and the first in head coach Dale Ribble's four years at Westminster.
Caleb Thompson scored the first six points of the night. His role has blossomed in recent games and shouldn't be understated. The Wildcats led 6-0 out of the gate, and 9-2 at the end of the quarter. 
The second quarter told a slightly different story, but it was still Wildcat domination until the final two minutes of the half. Priory managed to pop the lid off the basket and score some points, but Westminster was scoring at will. They led 21-8.
There were a couple highlight-worthy moments from the game, and the first came in the second quarter. Priory got the ball in transition headed down the floor. It looked like 6'6" center Harrison Wilmsen was going to have an easy layup and maybe even a dunk. Instead, out of nowhere, Kobi Williams came flying in to violently swat Wilmsen and send the Blue Crew into a frenzy. This would not be the last time Wilmsen was the subject of an embarrassment at the hands of a Westminster player. 
Until the final two minutes of the half, it looked like Priory would easily trail by a dozen or more at the break. However, after an 8-2 run, the Rebels found themselves down just seven by a score of 23-16 at halftime. 
Westminster was in control. Priory was still nowhere close to out of the game though. Just a few weeks ago, Priory trailed by 16 at the end of the third quarter to Westminster and stormed back furiously to make it a game. However, Priory would never really get back into this game.
Westminster scored twice in the opening moments of the second half to stretch their lead to double digits. Priory scored only one single point in the first five minutes of the quarter. Also, after managing to quiet the beast in the first half, Brennan Orf came to play in the second half. He came alive and found the basket a handful of times in the quarter.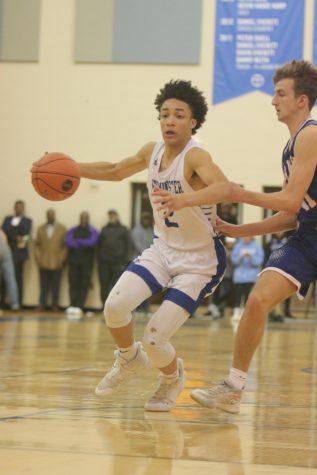 Things began to unravel in the fourth quarter. Specifically, junior Priory guard Myles Kee began to unravel. He picked up a foul and then another in the third quarter. By the start of the fourth, he was playing with four fouls. Then it all came to blows.
After Westminster inbounded the ball against the Priory press, Kee picked up his fifth foul eighty-five feet from the basket on an easy reach-in call. He reacted vocally, as he had been all night, and pulled his shirt all the way up over his head. It was an easy call to make. Kee picked up his sixth foul of the night on a technical foul on his way to the bench. 
The result was four free throws: two for the double bonus from the original foul, and two more for the technical foul. Westminster nailed three of the four and scored on the ensuing possession. Priory was severely wounded. 
The next highlight-worthy moment followed soon after. Brennan Orf held the ball out top. For some reason, Priory insisted on guarding him thirty feet from the basket with a player who was slower and less athletic. They would pay. 
Orf held the ball, then dribbled left twice. He threw on the breaks and went behind his back from left to right. Harrison Wilmsen didn't follow. He did a complete faceplant, unable to get even one foot out to brace his fall. 
"He plummeted," said Brennan Orf after the game, and the Blue Crew went absolutely ballistic.
On the other side of the ball, familiar Westminster foe and senior Charlie Ferrick was taking over the game. Like he's done for years against Westminster, he managed to find ways to score the ball throughout the second half even despite being blanketed by EJ Williams. Ferrick plays hard all the time, gets to the rim, and makes free throws. His style of play earned him Conference Player of the Year last year. He would finish with 22 points on the night. 
Although Ferrick seemed to be at times unstoppable, Priory could never get close. Westminster made free throws, something they've struggled to do this year. They shot 67 percent from the line on Thursday night. 
EJ Williams was important for the Wildcats on Thursday night. He hasn't been much of a scorer this year, but he was everywhere on Thursday night. He scored a career high 11 points on nine shots, grabbed five rebounds, and dished out four assists.
As time wound down, a second Priory player fouled out and the Rebels were forced to stray from their usual six or seven man lineup. Their players continued to ask for technical fouls, but were never awarded any. 
The final moment held a sense of euphoria for Westminster basketball fans. Basketball season is long. It started way back around Halloween, and it all comes down to this at the end. Yes, this team was good this year, but good seasons can easily get lost in the shuffle unless they're accompanied by playoff success.
This is Brennan Orf's legacy. He's playing at a high level despite being beaten up. He's playing next to a core of sophomore stars who will go on to make this level of play the norm at Westminster, but right now, this is the Brennan Orf show.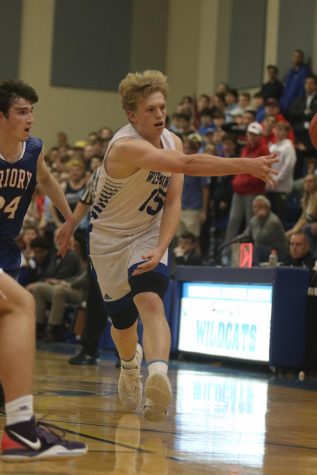 He scored 16 points on Thursday, all of which came in the second half. His style of play is a sight to behold. He doesn't talk. When the Priory guards chirped in his ear, he had no response. 16 points in a half was his response. Beating the same team for the third time in the same season was his response. Taking the District Championship right out of Priory's hands was his response. You can't argue with that. 
The final buzzer sounded, and Westminster won 58-46. That last horn represented the closing of Westminster basketball in the Arena for the year, and with it, all the memories made. Just two nights ago, we had the dunk. Brennan Orf threw down to put the exclamation point on the Wildcats' victory over Borgia in the District Semifinal. A month ago, the Spirit Night game was played, and Westminster won it for the first time in Coach Ribble's tenure. Before that, Westminster beat MICDS at home 42-37. We saw the double overtime thriller against Lutheran North that ended in a 73-68 victory. Lutheran South, Christian High, and let's not forget to mention the Town and Country Cup. The Westminster Christian Academy Arena has been the site of many a Wildcat victory this year.
With the win on Thursday, the Wildcats protected their home court perfectly. That is to say they did not lose one single game at home this season. This is a tremendous feat. However, Westminster will not play another home game this year. It's time to move on.
In Sectionals, Westminster will have to face St. Mary's, an 11-16 team who won District 3. The two teams have not met in basketball this year, but like all playoff games are at this point, it's sure to be a fight. The game will be played at Cedar Hill on Tuesday evening at 7:45 PM. 
Priory, if you're reading this (which I know you are), thank you for a great season series. We'll leave football out for your sake, but it was a fun year. It started over at your place with a spanking, came back for the Cup at ours, then ended for you all as you watched in agony and realized that it just wasn't in the cards to beat Westminster this year. In all seriousness, although we may never have to hand it over, we want to make the Town and Country Cup a tradition if you're willing to. If not, that's fine, too; just remember, the Cup is immortalized forever in the newspaper and on the television. Go see for yourself on the 800 Sporting Wall of Fame. 
I'm proud to be a Westminster basketball fan. This team is unselfish, disciplined, and they play with great heart. They don't talk back to referees or players. All of these characteristics are a testament to what Coach Ribble has done with his team. There is great pride in playing for Westminster. Let's keep it rolling.