The Biggest Day in Westminster Sports
Gooooood morning, Westminster!
It's a great day to be a Wildcat. In fact, I can hardly think of a better time to be a fan of Westminster sports. Let's take a moment to reflect.
Two of our five winter sports are in their State meets right now. Our girls swimmers put up a strong performance during day one of their State meet, qualifying four events for the championship heats, meaning that four events will medal this year. One of our events, the 200 free relay, swam the fastest relay at the entire meet, which means that they could win a State Championship this morning. We could go into tonight's festivities already State Champions.
None of these events include Margo O'Meara, who shattered the state diving record last night on the way to winning her third state diving title in as many years. She'll go down as a Westminster great.
On the wrestling side, Brett St. John made it through day one of state with a record of 1-1 and still has a chance to place in his weight division.
On top of these sports, our basketball teams are as hot as they've ever been. On Wednesday, both teams received one seeds for their district tournaments, both of which will be hosted at our very own Arena in less than two weeks. You might also remember that our boys and girls basketball teams are ranked third and sixth in the Post-Dispatch basketball rankings, respectively.
Last night, the girls obliterated Duchesne by a score of 59-20 on #PlayforKay night.
Tonight, our boys take on Priory at home. You'll have to take your pick on what you want to call this game; is it Senior Night, or is the Town and Country Cup? All we know is that the Arena will be rocking as the boys take on the Rebels and try to build on their 24-point domination from the last time the two teams met.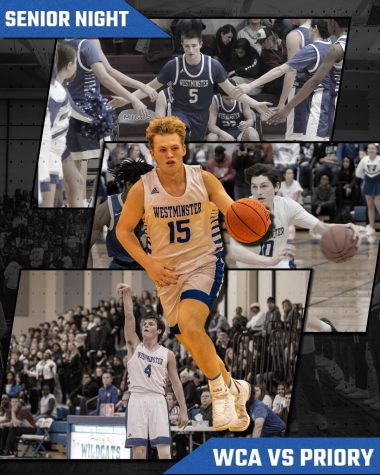 After basketball, Westminster sports fans will caravan up to Centene Ice Arena to watch a team that hasn't been mentioned yet: our hockey team. They're playing in the semifinals of the Wickenheiser Cup against Oakville. With a series win over Oakville, the Cats on Ice will set their eyes on the Enterprise Center and some brand new hoodies. The return to the promised land indeed.
These are historic times at the Crystal Palace. This moment is so big, in fact, that Ms. Woodall decided to call an emergency blue and white day yesterday afternoon.
If you aren't a Westminster sports fan, why not? The Cats are hot, and that's all there is to it. So we invite you to make the trip out to Senior Night (also known as the Town and Country Cup) or Centene Ice Arena tomorrow night to witness history. This is what high school is all about, and these are the moments we will remember.
Being a member of 800 Sporting is truly a joy when our teams are performing at the levels they are. I'm proud to go to Westminster. There really is one main question that comes to mind in all of this: How Bout Those Cats?