Brennan Orf: Mr. 1,000
"Bring in the freshman."A tall, buff freshman with curly blonde hair steps in and makes his varsity high school basketball debut in 2017 playoffs. Nobody knew his name and nobody knew where he came from, but they knew he was going to do some damage in his later high school years. Who knew that this same kid would grow up and score 1,000 points, accomplishing a huge milestone for a high school basketball player and joining an elite group of Westminster basketball players. 
In case you haven't caught on, this tall, curly-haired kid is senior forward Brennan Orf, who hit the milestone in the Lindbergh tournament semifinal game against Riverview Gardens High School on January 16th. Orf was eighteen points away from 1000 going into that game, and, based on his 16.7 points per game average, achieving this goal seemed more than feasible. Orf did not get much time in the first half of the game due to the fact that the Wildcats were beating the team by more than twenty points. However, in the third quarter, Orf got his time, and he ended up going into the fourth quarter just one point shy of the accomplishment. 
In the fourth quarter, Orf had a chance to do it at the free throw line after being fouled in the paint. As the crowd all stood on their feet to celebrate, Orf missed both shots, and headed back on defense with a huge smile on his face. Just a few possessions later, the Wildcats took control on a fast break. Casen Lawrence had the ball and threw a perfect pass right to Orf on the left side with an open court directly in front of him. As he drove, he laid it in and was fouled on the way up. The crowd exploded. 
"Casen took it out of bounds and passed it up to me, and I had an open layup, one on one, and I got the layup," commented Orf during a postgame interview, "It was everything that I dreamed of."
After seeing his first minutes late in his freshman year, Orf stole the spotlight as a sophomore. It wasn't looking like he'd get a ton of minutes headed into the season, but after an injury took down senior Michael Thoenen, Orf was thrust onto the big stage. After spending a few games adjusting to the size and speed of the varsity game, he found his groove. He'd go on to average 11.5 points per game as a sophomore.
It wasn't until his junior year that you might start to call Brennan Orf a dominant player. After dropping 21 points to go along with eight rebounds and four assists in the 2018 season opener, it was officially the Brennan Orf show. His 16.8 points per game average were good enough to give him first team All-Metro league honors for the second straight year.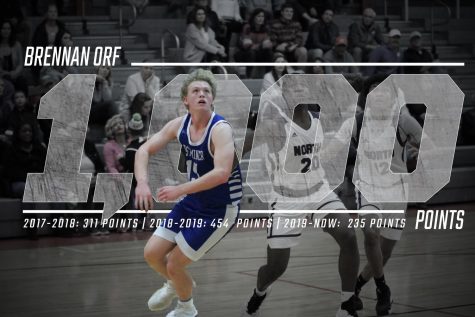 This year, Orf is the centerpiece of what has the potential to be the best team he's played on in his four years. Although it probably hasn't crossed his mind, with his 16.7 points per game and 8.3 rebounds per game, Brennan is the pretty obvious frontrunner for a different Metro League award: Player of the Year.
Back at Westminster, the most recent entries to the 1,000 point club at include Steve Webb, Cliff DeGroot, and SIU stud Aaron Cook. After hitting this milestone, Orf will surely go down with these legends and be considered one of the best basketball players Westminster has ever seen.
With plenty of season left to play, Orf is on pace to be the third player in the last twenty years to score 500 points in a season. It will truly be amazing for the fans, coaches, and teammates to watch Brennan Orf continue to leave his legacy at Westminster.