Putting It All Together: Wildcats Get a Big Win to Close the Regular Season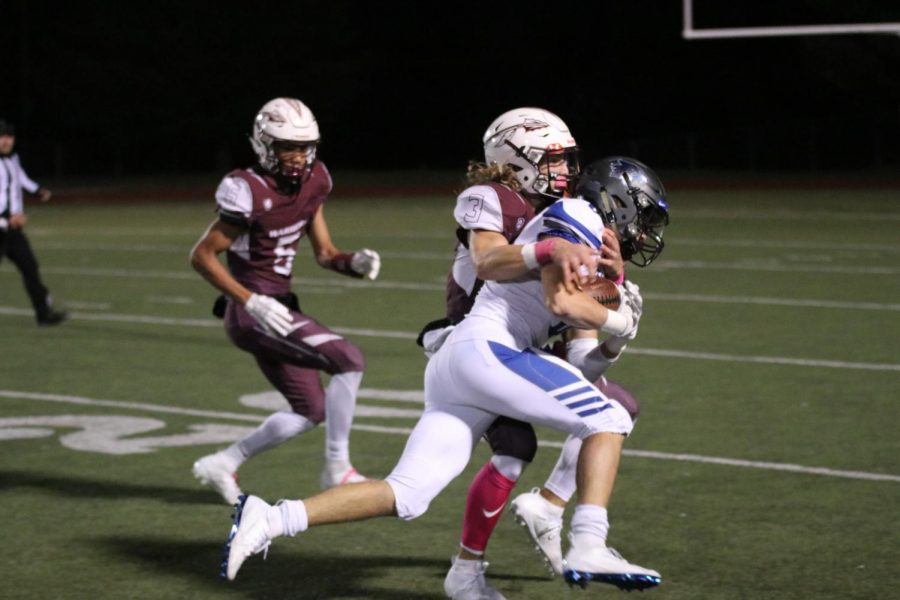 The Wildcats came out victorious 42-35 after a back and forth game against the St. Charles West Warriors on Friday night, Oct. 25. While the game was high-scoring, it was the defense that stepped up when it mattered most to save the day.
As they have most games this season, the Wildcats got off to a roaring start. On the second play of the game, the defense forced a huge fumble, giving quarterback Lane Davis and the offense excellent starting field position. From there, Davis did the rest. He scrambled in and scored on a four yard touchdown run.
When the Wildcats got the ball back, they struck again. Big plays from sophomore LJ Minner helped bring the team down the field, and he was ultimately rewarded with a 13 yard touchdown pass with 1:48 left in the first quarter.
After giving up a touchdown to the potent St. Charles West triple option offense, there were more fireworks from the Wildcats. Senior Ben Hicks electrified the crowd by taking back the ensuing kick 92 yards for a touchdown. With this, Westminster ended the first quarter with a 21-7 lead.
In the second quarter, both offenses remained rampant by scoring two touchdowns. Saint Charles West's running back scored on a 15 yard run at the beginning of the quarter, and the quarterback threw a 25 yard touchdown later.
However, the Wildcats responded with two touchdowns of their own. Yet another one came from Minner, who surpassed the 1,000-yard rushing mark during the game, and the other came from senior Ben Parres.
Coming out of halftime, both offenses cooled off. There was no scoring until St. Charles West threw for a touchdown with four minutes left in the third, cutting the deficit to just one touchdown. Despite this, Davis stepped up and delivered when it mattered most. He fluttered a beautiful ball in-stride to Hicks for his second touchdown of the day, giving them a lead of 42-28.
When the fourth quarter rolled around, it was a battle of the defenses. After cutting the game to 42-35, the Wildcat D anchored in. After squandering a couple drives with turnovers, the Wildcat defense bailed out the offense. Senior Toby Davidson came through with many tackles and senior linebacker Hayden Engel put the game away with a fourth down tackle with a minute left in the game.
The victory on Friday night was a huge win on all sides of the ball. The Wildcat offense came alive while the defense stepped up when it mattered most. Even the special teams unit got in on the action with a return touchdown. The Wildcats will look to carry this momentum into district play as they take on Parkway North on the road this Friday, Nov. 1, at 7 PM.