Sometimes You Get What You Pay For
Parents are spending thousands in order to give their children the best education.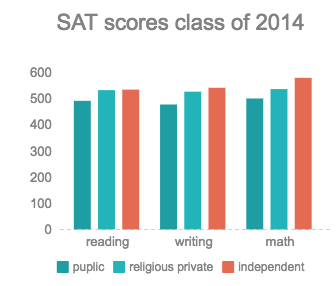 Hang on for a minute...we're trying to find some more stories you might like.
In St. Louis alone, there are 175 private high schools. The average tuition for all St. Louis Private schools is $16,809. Many parents insist they put their children in private schools for the religious benefits and a better education. While it is clear that children enrolled in public schools often lack the benefits of private schools, such as a religious-centered education, public schools tend to offer more options and fewer restrictions. Both schools present different opportunities with benefits and limitations, making the decision between private and public schools extremely difficult.
Funding may be the biggest difference between the two types of schools. Parents who put their children in private schools spend nearly $16,000 on tuition yearly and expect an exceptional education, but parents who enroll their children in public school still have high expectations for a quality education without spending thousands of dollars.
I have been to four private schools and one public school in my life. Westminster is the first private school I have attended where I am receiving a truly exceptional education and being challenged. The three private schools I attended before: Sacred Heart Eureka, St. Alban Roe, and St. Joseph's Academy were simply not challenging. I was not pushed by my teachers or offered help when I struggled with an assignment. The attention was not divided among the different types of students so advanced students were bored and students that struggled suffered.
Private grade schools do not offer advanced courses mainly because there are not enough students to fill the classes. Whereas, the one year I attended a public school was an extremely different atmosphere. Even in elementary school, advanced courses and hands-on learning was offered. The elementary school offered a ton of electives and extracurricular activities that were not offered in private school, such as off-campus classes for students who excelled above average.
Though it is difficult to judge the complexity of a school by one year, especially freshman year, my freshman year at St. Joseph's was far from challenging. I was able to coast by without putting any effort in and still received high scoring grades. St. Joseph's placed there focus on athletics which is not a bad thing. However, academics seemed to be ignored. Switching to Westminster was a huge academic jump partially because I had not been prepared by my previous schools and partially because of the courses I took. At Westminster, it is clear that they focus on maintaining an education-driven atmosphere, resulting in more difficult classes. 
It wasn't until the fourth private school I attended that I feel as if my parents' money wasn't being wasted. Because Westminster is an exception, it seems as if sending children to private schools isn't worth the money. Public schools are required to teach a specific curriculum ensuring that students are offered a proper education. Moreover, school districts such as Rockwood offer programs for children with learning struggles. A family friend of mine has learning disabilities and first enrolled their child in a private school, but ended up switching him to their local public school and was blown away by the outcome. Programs were offered and one on one help was provided to accommodate our needs as a family. "The school made us feel as if we were their main priority and we couldn't be happier," said my neighbor with a child enrolled in public school.
Both schools offer different opportunities but are required to teach the same curriculum. This makes the idea of spending thousands on a private school seem outrageous to some people. Certain families who place faith life at the utmost importance find it extremely important to send their children to a Christian or Catholic schools. However, if a parent's main goal is to give their children the best education, a private school is not always the only option.