Followers Don't Equal Voters
Focus on policies, not celebrity status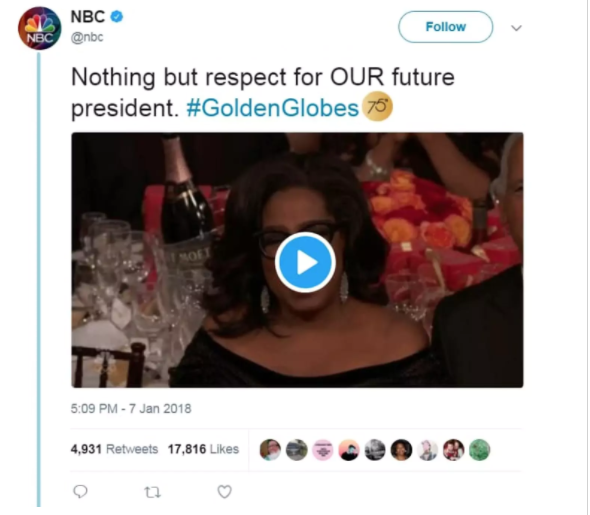 Hang on for a minute...we're trying to find some more stories you might like.
"You get a car! You get healthcare! Everybody gets government healthcare!"
So far, Oprah Winfrey's main qualification to run for president in 2020 is a good speech at the Golden Globes. It seems people don't care about or pay attention to policies anymore, but rather focus purely on people's public image. Politics has increasingly become a game of who is most likable and looks best.
I'm sure Oprah is a great person, but how quickly people jumped on the bandwagon to make her president even when she said she is not running is concerning. It's reminiscent of the Bernie Sanders following and the direction of young people today. It was disheartening for me to talk to people my age, or even older, talk about how they are a Bernie supporter because "he's a cute old man" or simply admit they like him because he isn't Hillary Clinton or Donald Trump.
The sad reality is that many of those people have no idea what Bernie actually stands for or that he holds to socialist principles and what that actually means. Instead, people want Sanders in office because he appears to be a nice man, he promised free college, and he wants to raise the minimum wage. On the surface level, all these things sound great, but people fail to see past that and assess exactly how those things will be accomplished or what the consequences will be.
Obviously, this is not just the case with Bernie Sanders. Whether it was Donald Trump, Hillary Clinton, or whoever else, a large portion of the American public failed to take just a little bit of time and effort to make an educated assessment of who they should vote for.
People assume that if Donald Trump could run and become president, then no one can complain about other celebrities running or being involved in politics. The difference is that Donald Trump ran a campaign centered around specific ideas and beliefs. He didn't necessarily have specific policies lined out, but regardless of what people think about the ideas he has promoted, there is no doubt that he gave the public a pretty clear indication of the path he wanted America to follow. In the cases of celebrities such as Oprah Winfrey, people don't seem to take any of the celebrity's beliefs into account but rather focus on their status in Hollywood.
Oprah Winfrey is a very accomplished person who seems to want to help people, but voters need to be careful about who they truly want running our country. Being widely loved and a nice person does not automatically correspond to being a good leader. True leaders have to make hard decisions that not all people are going to like and cannot base all their decisions on what would be seen as the nicest.