Kobi Williams Chases Down a Record
A 32 year record is about to be broken by one of the best basketball players to come through Westminster.
In 1991 Jeremy Marsh, now an upper school science teacher, broke Tim Hall's record for most points in a basketball career at Westminster, scoring 1324 points. 32 years later, Jeremy Marsh is the Head of Institutional Advancement at Westminster and Kobi Williams is just a few games away from breaking his record.
Kobi Williams has been a star on the Westminster basketball team since his freshman year scoring 179 points, his sophomore year where he put up a whooping 358 points and another 364 his junior year. Senior year, Kobi has scored 378 in 17 games and he averages 22 points per game. This puts Kobi at a career total of 1279 points just 17 games into his senior season, putting him 45 points away from the record.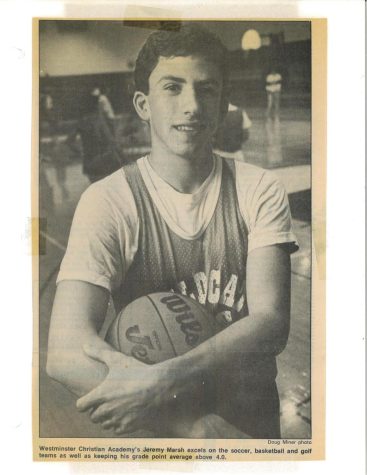 In 1991, Jeremy Marsh's senior season he broke the previous school record for most points in a season (907) that was held by Tim Hall. Tim Hall was on the first ever basketball team at  Westminster, he played varsity basketball all four years. He set the first scoring record at WCA was in the first class at the school; the record started with his total number of points when he graduated in 1980. 
Six years later Jeremy Marsh joined the JV basketball team as a freshman and then played varsity for his next three years of highschool. In just three seasons he was able to break the school record for points and set the current record at 1324 points. "I would have never thought the record would have been held for 32 years." Said Jeremy Marsh class of 1991
Next year Kobi Williams is going to be continuing his basketball career at Truman State University joining alumni Casen Lawrence. Jeremy Marsh's basketball career ended in high school. He was a great player in his high school days and earned a few division three college offers. He decided not to continue his basketball career and attended the Air Force Academy and then served in the Air Force until he moved back to St. Louis in 2021. 
On December 9th 2023 Kobi hit the career milestone of 1000 career points. That in itself is a huge feat for basketball players, but Kobi has added 279 points to that total in just over a month. Kobi had to take over a big role on the team this season which resulted in the ball being in his hands more than ever and he has definitely risen to the occasion. He has been scoring at a monstrous rate this season while being a great leader of the young team.
"He is an incredible basketball player. I'm impressed with his all around game. He's the whole package, he can handle the ball and shoot and he's an amazing athlete. Handles pressure well and is a great leader. I have a lot of respect for him." Said Jeremy Marsh class of 1991
The record for total career points is an impressive record to hold, and it needs a lot of things to fall in the right place for it to be achieved. The player needs to avoid major injuries throughout their career, ideally play four full seasons on varsity, get a lot of playing time, be a shooter, and have a good enough team around them to get them the ball. 
"I was able to Score a lot of points but no one can achieve a record like that without a lot of help." Said Jeremy Marsh class of 1991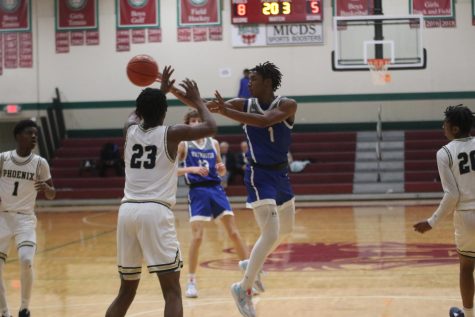 Kobi will be just the third player in Westminster's 47 year history to hold this record. The only other two people to hold this record currently work at Westminster so, maybe Kobi has a career at Westminster in his future. It is an incredible achievement that Mr. Hall and Mr. Marsh held, but now the honor is Kobi's to take. With Kobi's average of 22 points per game and with him being only 45 points away from the record we are predicting that he will break the record either at the end of the game on January 27th against John Burroughs or the beginning of the game on January 31st against Whitfield.