THESCON: Actor's Paradise
Students involved in Westminster's theatre department attended the Missouri Thespian Convention this past weekend.
The Missouri Thespian Convention was held in Kansas City just recently. It is an opportunity  for high school thespians to develop new skills, meet new people, or just enjoy themselves. Devoted theater students at WCA had an opportunity to experience the convention, starting January 5th.
"I had a great time at Thescon. I connected with people in our troupe, and outside our troupe, and I had lots of fun at the workshops," says Maggie Dalby, Junior and Thespian.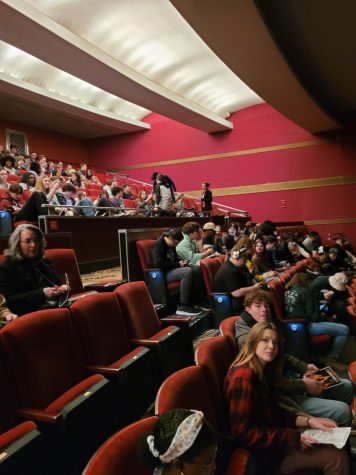 Participants from Westminster departed at 4:30am, January 5th. They then embarked on a 4.5 hour trip to Kansas City. After settling in the hotel, thespians from across the state gathered in an opening ceremony, where several videos from successful stage actors were played to encourage attendees. Afterwards, Thespians were free to explore the convention. For three days, many workshops were held, from dance to makeup to improv to even jump roping. Thespians could decide freely which workshop to visit.
"My favorite workshop I attended had to be the 'makeup for old age,'" says Jonah Zell, Senior. "The kid that the presenter was practicing on looked so realistically old that when he turned to show his non-makeup half of their face there was an audible gasp in the room from the difference," says Jonah.
Several Westminster troupe members also participated in an Individual Event, an opportunity to exercise acting ability. A few people volunteer to participate in one of several categories, and perform a scene or sing a song in front of fellow thespians. The categories Westminster participated in were: monologue (Patrick Howard), group scene (Anneka VanderVelde, PJ McCauley, Charlie Mathis, and Jack Nelson), duet song (Elizabeth Bauer and Ginger Cox), and solo song (Zach Leeker).
"My individual event was so fun!" said Ginger Cox, Freshman and thespian. "At first I was nervous, but as soon as we had started the song, I began feeling less nervous and easing up."
At the end of the day, thespians gathered together to watch a performance put on by fellow thespians. Each day had a different show. The first show was Girls Like That, the second was You're a Good Man Charlie Brown, and the third was The Mousetrap. Each show was a high-quality performance.
On January 7th, at about 4:30pm, Westminster Thespians began the long journey back home after a successful weekend.