Westminster Student Talks Robotics Strategy for Georgia Tech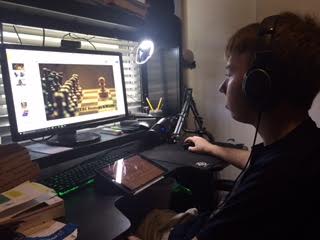 Hang on for a minute...we're trying to find some more stories you might like.
Robotics strategy was the topic of the talk that Sam Dare, senior, gave for Georgia Tech on Oct. 14.
"I viewed it as a chance to teach people about strategy in FRC (FIRST Robotics Competition)" said Dare. He talked for forty-seven minutes to a crowd of over one hundred people.
Unfortunately, Georgia Tech was unable to fly Dare to their campus for the talk, so he gave the presentation over a webcam.
"I was ecstatic because it was a great opportunity for me and it gives some much needed publicity for our team," said Dare, the first non-Georgia resident to speak about the topic at the university.
"There was an application on Chief Delphi, the FRC forum, and I applied. About a week later, I got an email accepting me," said Dare. He was notified in mid-July about the opportunity and has been preparing ever since.
"Mr. Butz helped me work out the flow of the presentation, and gave me some pointers throughout the process," said Dare. Mr. Butz, who teaches Speech Communication, had Dare give his speech to his speech class as a trial run the day before his Georgia Tech talk.
"It bored the class to tears, but it helped me a lot," said Dare. The practice prepared him to give his speech the next day even when his notes did not load.
"Last year, I learned that people will listen and react strongly to stories, so I did my best to teach through storytelling. I consider storytelling to be one of my greatest gifts as a leader" said Dare as he used his experience in robotics in his speech.