When the Classroom Becomes the Course
WCA Gifted Program Seeks New Angles in Education
After a morning full of difficult tests and extensive papers, seven eighth-graders gathered in their fifth-hour class, pushed the desks to the side, and began laying down tape and wooden blocks, creating a miniature golf course.
As part of their geometry and angles unit, the students were required to accurately design a nine-hole mini golf course on paper and were also given the choice to build a life size hole in their gifted class. The program began three years, starting with one class of seven eighth grade students, taught by Mr. Adam Barbee.
The gifted class offered students the opportunity to explore new subjects and ideas through guided units several days a week and also acted as a U.S. history class on the other days. The units covered a wide variety of subjects, including math, entrepreneurship, writing, innovation, and invention.
Many of the students, now sophomores, considered the golf and geometry unit their favorite, allowing them to focus on ideas rarely taught in school. Learning how to use their math skills to incorporate unique architecture and design into their courses stretched the middle schoolers abilities. "It just shows that everything can be explored in depth and has a reason behind it. We took something that seemed so unrelated to school and used it to expand our minds," said Hannah Stevenson, one of the original seven students.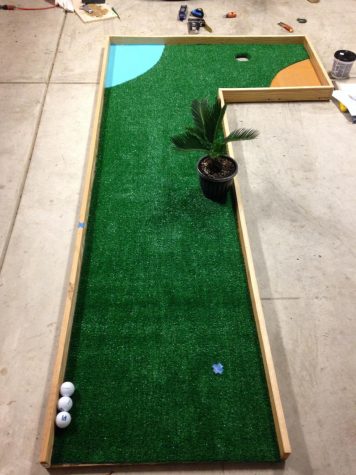 As the students neared the end of their eighth-grade career, they engulfed on a new project, their field studies or capstone projects. Given the opportunity to choose an intriguing area of study, each student pondered what subject would best use their skills and who they would pick as their mentor to guide them along the journey. Throughout their freshman year, the students met periodically with their mentors to engage in their projects. Each person's interests shined in their radically different choices of study. Whether it was photography or neonatology, the opportunity gave the students a chance to consider their lives after high school. "The capstone project has opened my mind to a lot of the possibilities in my future," Stevenson said. Many even changed their topic throughout the year, opting for a subject more suitable to their interests.
Throughout their freshman year at WCA, the group had a weekly advisory together with Dr. Sara Schwamb, who assisted them with their projects and kept them on track. Entering into the 2017/18 school year, they will continue to shadow their mentors and prepare for a final presentation of their findings.
Reflecting on what they learned in the past two years, the current sophomores are grateful for the opportunity they had to expand their learning outside of the classroom, challenge themselves every day, and to be a part of a learning environment that highly incorporated their strengths. "I've learned different ways and perspectives of looking at situations and thinking outside of what is normally expected in a classroom. I've learned how to balance my homework and learn to enjoy some of it," said sophomore, Alyssa Legters.
Learning how to apply what they learned in class to their futures and ideas have expanded their minds and allowed them to grow both in and outside of school. While the new sophomores may be done measuring angles for their mini golf courses, they are now seeking new angles in every problem they face.