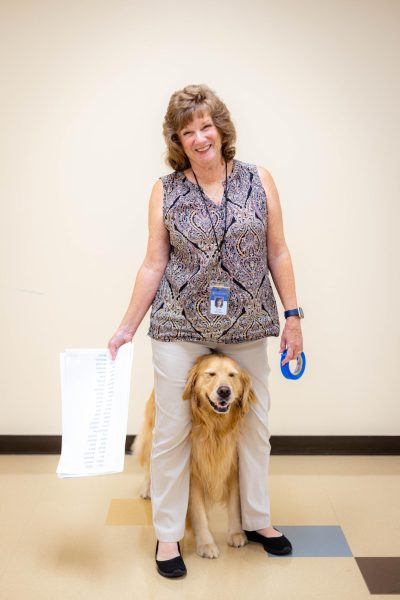 Westminster's best aren't the valedictorians or the star athletes–they're dogs.
Every student knows Millie, the Academy's very own therapy dog. But not many know of other faculty-owned dogs that are approved to come to school. Along with Millie are Maggie, owned by Mrs. Rupprecht, and Daisy, owned by Mrs. DeRousse. These fluffy, fun-loving golden retrievers are a favorite among students and faculty.
Millie went through rigorous training to achieve her position as a registered therapy dog. From doggy daycare to a citizenship award, Millie's done it all.
"Millie went through puppy obedience classes, and then she went through advanced obedience classes, and then she went through Canine Good Citizenship training, and then she actually became part of the Alliance of Therapy Dogs program, and they go into nursing homes and hospitals and things like that." said Susie Brown, Director of Student Life and Millie's owner.
Maggie may only be eight months old, but she's done training of her own. She takes classes three times a week in order to become the goodest girl around.
"Maggie goes to Kennelwood, and she's been there since the end of June. […] So she goes there and gets trained, and she got […] the Canine Good Citizenship Award […] She would go [to training] all 5 days, but she's already mastered so much of it." said Lisa Rupprecht, Coordinator of Parent Community Relations and Maggie's owner.

Daisy is a bit older than Maggie, and she has gone through training and classes of her own. Anne DeRousse, middle school science teacher and Daisy's owner, has lofty ambitions for Daisy's future.
"We did all the puppy training stuff […] she got her good citizen award. So that was pretty intensive training. Now she's doing a tricks class, and the idea behind that is if you would go to different places, it's a way to engage people or kids with her […] The next step is […] she'll get tested to be a therapy dog." said DeRousse.
Millie has a vigorous daily routine. In addition to being the school's therapy dog, she also helps with maintenance.
"She goes out in the Grand Entry and she greets everyone, and then she meets Mrs. Ruprecht for a treat. Then we take the elevator up to the Hub, and we hang out there for a little while […] After lunch, she cleans the cafeteria floor–and she knows when it's time to do that. And then she comes back here and is just available to be petted as needed." said Brown.
Maggie attends more sporting events than most students, taking advantage of the opportunities to meet people, socialize, and get love from strangers.

"She was at the football game Saturday. I bring her to a lot of sports stuff. […] She's been to soccer games, lacrosse games, football games, baseball games, and I bring her up a lot after school […] and she loves it." said Rupprecht.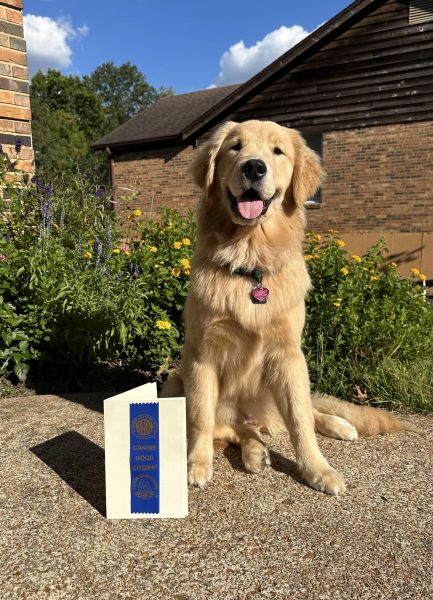 Daisy adores her unofficial job as DeRousse's "class pet". She loves the students as much as they love her.
"She loves this. […] After they leave, she sits there and cries, like, 'where are the kids?' […] She really was born to do this." said DeRousse.
Despite her official position that requires diligent work and long hours, Millie has a habit of getting into mischief. She used to be a regular disrupter of meetings, and her antics have cost Brown over $100.
"When Millie first started coming to school with me–she's very food-driven–I would have lunch meetings here in our office, and almost every day, Millie ate someone's sandwich. […] She also ate someone's sandwich after school one day–they were getting ready for sports, and we were just walking the halls, and she spotted a sub sandwich, and… I had to replace that one too." said Brown.
Not to be outdone, Maggie has a similar taste for anything she can find on the floor.
"I really think it's in the retriever's DNA that they have to be a vacuum cleaner. She really likes the acorns outside. Maybe she's part squirrel." said Rupprecht.
Daisy has a similar habit, but she isn't inclined to eat food. Instead, she opts for less digestible items that make their way onto the ground.
"She'll eat everything on the floor. […] When she's in the hall, she's constantly on the lookout for anything that's dropped. She's like a little vacuum cleaner, so really, it should be the maintenance department that takes her on. […] Although she leans more toward paper, plastic, metal… she does not have a very discriminating palate." said DeRousse.
With their golden fur and happy smiles, it's hard not to love Millie, Maggie, and Daisy. Next time you feel stressed or just want to spend time with a fluffy friend, head down to Student Life to see Millie!