Have you ever wondered what life was like in the ancient world? Perhaps you wonder what people in the ancient world ate, what their society was like, or maybe how they created the artistic artifacts we find today. Ceramics I and II here at Westminster have discovered the answer to how ancient peoples created beautiful vases, pots, and bowls can be found. 
Each fall, Emily Dierking, an upper school art teacher, takes her ceramics students on a journey through the history of ceramics by firing their pots in a traditional kiln, which returns to the roots of human artistry as pottery is one of the first known methods of human artistic expression. Although the process of making pottery today largely differs from the way pottery was made in ancient times, much can be learned about human nature through the study and practice of our ancestors' methods of creating this form of art. 
Despite the advances in technology that have simplified the process, many of the materials used by the ancients are still available today
"We got organic materials, so I saved for a whole year: banana peels,  avocado peels, and pistachio shells and we wrapped all those things around our pieces and then we put them in the fire […] the fire lasts for about 12 hours, so I started it at seven thirty and then shut it down at around 7:30 pm," explained Mrs. Dierking.
Despite the tedious process of creating pots in the traditional method, the products of ancient firing techniques always have unique designs due to the coloration of the organic dyes of the avocado, banana, and pistachio. 
"You're not sure where the color goes as you burn it, so you don't have control over how each piece turns out. We'll never be able to replicate the designs, that's the fun part because it's a one time thing and I can't recreate this same look […] you can only do it once" said Dierking.
The clay firing project does not simply provide students with a unique educational experience, it also gives them an opportunity to hang out with their class and find relief from some of the academic stress of Westminster's curriculum. On firing day, students from the ceramics classes got to enjoy a fun class period of being outside, eating s'mores, and playing games with their friends while they observed the traditional kiln in action.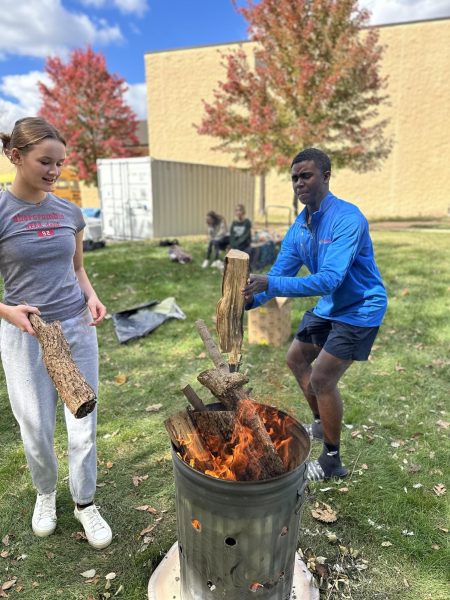 "I am currently in Mrs. Dierking's 6th hour, and it is really nice to have that class after lunch since it's really chill. I made a thick, tiny vase for the bonfire project. I did enjoy the project simply because it was low stakes. The pot didn't have to be symmetric or extravagant. In fact, she wanted our designs to be simple so we could see how the fruit peels and dyes naturally color the pots. Personally, my favorite part of this project was being able to go outside and eat s'mores next to a fire!" said Kate Beste, a sophomore in one of Dierking's ceramics classes.
 Even some students who did not take ceramics courses this year were invited to join in on the fun.
"It was a fascinating process to watch when I came outside during Art History to check on it. It was a super beautiful day! We roasted marshmallows over the fire and ate our s'mores on the picnic blanket. My classmates and I even came back to sit by the fires during lunch and we were joined by my Dad, Mrs. Pinckard and Mrs. Dierking" said Florence Sarra, a senior in Mrs. Dierking's AP Art History Course. 
In going through the trouble of orchestrating this immersive lesson about the origins of pottery for her students, Mrs. Dierking gave her classes an educational experience they will never forget.  This is just another example of how Westminster teachers go the extra mile to give their students unique and memorable experiences that bring learning to life.