Every year, the homecoming carnival offers a plethora of different booths to visitors. Whether you want to grab a bite of delicious food, or play a unique game there's bound to be a booth for you to enjoy and this year, the booths are better than ever.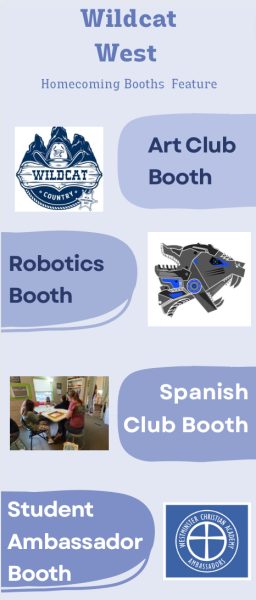 Ambassador Booth
Are you a snow cone person? Well you're in luck because this year Westminster's Student Ambassador program partnered with Tropical Moose to provide the carnival goers with sweet, delectable, top quality snow cones that are sure to refresh and revitalize you after a long day of rides and games. Furthermore, for an extra dollar, you can purchase a balloon animal to accompany you as you enjoy the rest of the carnival. 
This year, the organization decided to try out something new by allowing the students of the ambassador program to choose the merchandise of their booth as well as the charity the profits will be donated to. The students collectively chose to donate the proceeds of their stand to the humane society to support the welfare of homeless animals in the St. Louis area. 
Art Club Booth 
Is your favorite part of carnivals the vibrant face painting? If you are a connoisseur of colorful hand and face art, then be sure to drop by the art club's booth this year. Their artists will allow you to choose any design you want from a sheet full of beautiful patterns and turn your face into a living mosaic. 
Spanish Booth
Are you a fan of Mexican cuisine? If so, be sure to drop by the Spanish club booth at the homecoming carnival for an authentic taste of Mexican culture. They offer various Spanish delicacies such as spiced beef, spiced chicken, and their school-renowned quesadillas that are sure to fulfill your desire for a tasty meal while you enjoy the carnival with your friends (or alone, no judgment here). 
All of the money raised by the booth will be donated directly to Los Vecinos, the Spanish Club's partner ministry. Every Tuesday members of the Spanish Club go to Los Vecinos, a large trailer park in the middle of Chesterfield, and offer free tutoring services to the children of the low income families who live there. The proceeds of the carnival booth will go towards refurbishing the trailer where the tutoring sessions are held, as well as buying the kids better supplies to work with. 
Robotics Booth
Are you into engineering? If so, be sure to stop by the robotics booth at this year's homecoming carnival to see complex engineering in action. Last year, Westminster's robotics team poured several long days and nights into designing a robot for the national robotics competition and boy did it pay off. Not only did they place highly in the competition, but they also created an amazing robot, so if you want to see how it works, don't hesitate to check it out as the engineers display its abilities to the public eye. 
Regardless of whether any of these booths interest you, be sure to visit the homecoming carnival this year to hang out with your friends, play fun games, and enjoy the festive rides and food.