Simply put, a jazz band is a musical group that plays music in the jazz style which encompasses complex harmonies, syncopation in rhythms, and often abundant improvisation. Westminster's very own jazz band meets every Monday, Tuesday, and Friday before school to join each other in exploring exactly this. 
Last year, WCA's Jazz Band was mostly made up of seniors, class of 2023. Because of this, some changes were necessary, or rather new opportunities were available with the addition of many new members to this year's band. Previously, all the members of the band worked collectively. This year though, they present a new image and it seems to be working very well. 
"Instead of being a big band ensemble where we all learn the same songs, we split into different individual groups who share common interests," said Abel Tucker, Junior.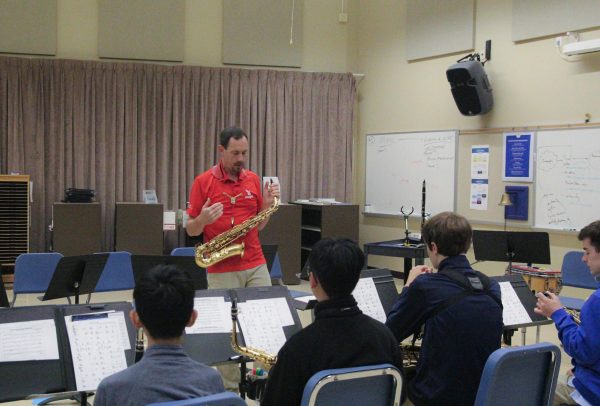 This shift has also warranted a change to the name of the group from 'Jazz Band' to 'Lab Band.' Students are able to collaborate with those in their group to create something they desire to learn and share. Currently, there are three different groups of students and each of them work independently to create musical magic. Each group has chosen a well-known song, such as Girls "Just Wanna Have Fun" or "Staying Alive" and are working to reimagine it and make it into something new. 
"If we think about the history of jazz it wasn't necessarily a bunch of people getting together forming a big group and having to find roles. Jazz was a stylistic exploration with a lot of improvisation and a lot of remaking music that was already on the market, so taking the latest popular song and treating it in different ways in different musical styles," said Dr. Eric Gargrave, jazz band teacher. 
Historically jazz musicians sought to express themselves through a new blend and exploration of existing musical styles such as ragtime and blues. Dr. Gargrave is seeking to sew this idea into the backbone of the band to be more true to the historical context of jazz and encourage his students to explore music passionately.
"Musicians wanna play because they are creative and they wanna adventure, so [I try to find] how can I help put students into that process […] I see my role as a bit of an instigator to adventure," said Gargrave. 
Often student musicians can feel confined by being required to follow strict rules in the sheet music but that's not the case for these students in jazz/lab band. They are able to explore and venture freely into the musical world.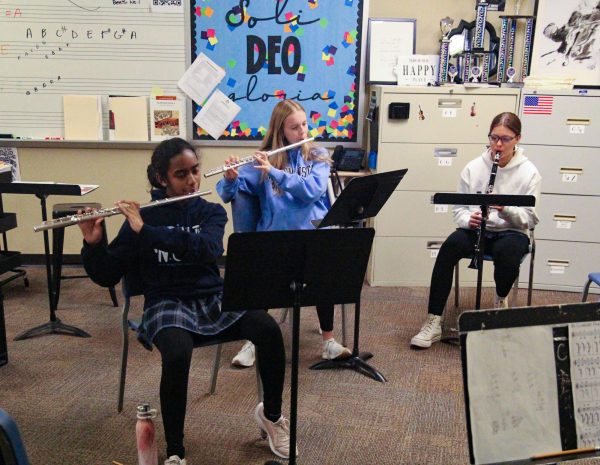 "It's really fun. I do like it. […] It's really hard to get a group of people together to create something that you all like, […] and even if the song isn't really my style I can still find a way to make it something I like," said Shepherd Perkins, Junior.
New members, like Perkins, and returning members alike find the unique experience truly enlightening. Each dedicated musician is willing to sacrifice their time and energy to create something for the Westminster community while deepening their own knowledge as well. 
Be on the lookout for the band as they play at the Instrumental Concert at 7 p.m. Oct. 5, Westminster's homecoming weekend football game Oct. 7, and periodically at Pawprint before school on Wednesday mornings.