Students have 40 minutes for lunch each day, and for some juniors and seniors this time provides the opportunity for lunch off campus. However, with traffic jams, crowded lunch venues, and under-staffed restaurants, eating lunch away from Westminster can be fraught with challenges.
 "I never know how long traffic is going to take and it's so annoying trying to make it back on time for 6th hour," says Monica Knapp, senior. 
To solve these problems, 800 News researched the nearest fast food and sit down restaurants in the area, exploring the distance, and wait times for each establishment. The Town and Country area boasts thirteen different restaurants within a 5-12 minute radius of Westminster. Below is a list of restaurants in the Westminster community as well as a there and back drive time assessment (not including traffic).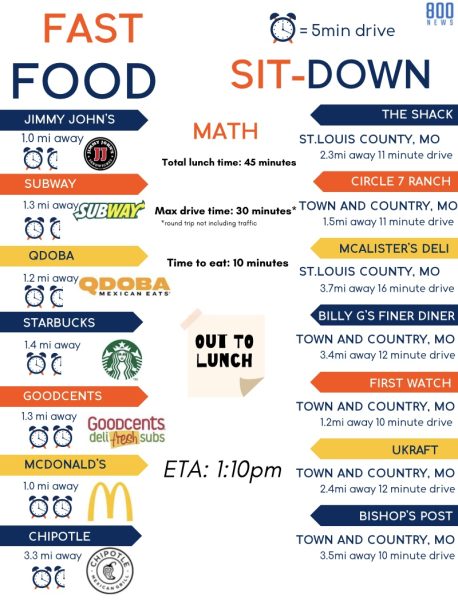 As far as time goes 800 News has estimated that students should drive to locations no further than 15 minutes away in order to return on time. Some fast math would place students at a total drive time of approximately 30 minutes. Next, after accounting 5 minutes for traffic, and 5 to eat, students should be back on campus around 1:15. However, people who are more cautious (or slow eaters) might want to choose a restaurant no further than 13 minutes away. As most restaurants fall into that category this is probably the best decision to give students the most leeway. 
Additionally, another less popular venture explored by students is the idea of a sit down lunch. However, as shown by the table, several options are available and possible time-wise as long as the meal is ordered ahead of time or the restaurant has limited traffic. This means crowd favorites like The Shack and Circle 7 are on the table. 
"The Shack has great food, and it's totally possible to get there and back to school on time as long as you order online." says Rebecca Rothrock, senior. 
In reality, the options for lunch are really unlimited ranging from a classic Big Mac to fresh local food at UKRAFT and even Mexican food at Qdoba. Westminster students are truly lucky to live in an area with so many diverse options right at the tips of their fingers. Finally, while students should enjoy their culinary freedom, they also should try to grab a bite and get back before the bell.