Grades Are Now Ranked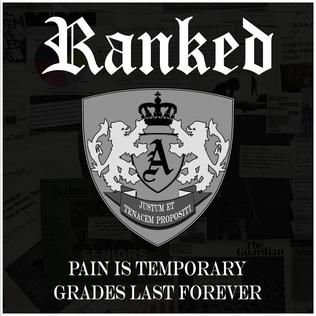 Ranked is a musical about a dystopian high school in which your grades are publicly ranked. If you fall below the average, your worth, not just as a student, but as a human, falls too. When an earth-shattering truth is brought to light, every student must reconsider what a rank is worth. 
The cast of Ranked has toiled long and hard to produce this show, and are looking forward to seeing all their hard work come to fruition.
"My favorite part of the production of Ranked is being able to tell a compelling story alongside my friends," says Abel Tucker, playing the role of Nate. "The cast has become very tight over the course of the show and It's great to see the ways it makes the show even better," he says.
Ranked follows three pairs of siblings as they try to navigate through their social life, which is convoluted by their value being assigned according to their grades. But as the story is twisted and turned on its head, they are all forced to reevaluate who they are and what they want, besides a number on a leaderboard.
"Ranked has multiple twists that work wonderfully into the plot, and our actors do an amazing job translating the story from script to stage, making those twists even more surprising and memorable," says Anneka Vander Velde, Stage Manager for Ranked.
While Westminster might not be nearly as bad as this high school dystopia, valuable lessons can still be taken from this story. The concept of grades defining a student's worth is not fiction.
"I often feel like academic success has a say in my value," says Deborah Kim, Junior.
Grades dictate your daily habits, how you are treated by parents and teachers,and have a large say in where you go to college. Then that can decide where you end up in life as a whole. This cycle does not end in college though. Grades will guide a person's life for the first twenty or so years of their life.
"For many college students, their self-worth is tied to their grades. Undergraduate students who base their self-worth on academic performance may study harder and longer, but they often experience more stress. They then fall back into the self-esteem/stress feedback cycle, and they still do not receive higher grades," according to William Peace University.
This production began back in November, and every member of the cast and crew have been working nonstop to perfect it. 
"I have put an uncountable number of hours into ranked. We've worked on it everyday after school and on Saturdays since November," says Tucker. "The amount of effort put into it has been reflective of the huge amount of time I and the cast have put into it. It has been a lot of time, effort and work. I am tired."
Ranked, A Musical will be performed on February 23rd, 24th, and 25th, in the theater.