Featured Artist from John Sarra's Class
Though just 15, Wendel has wisdom beyond belief when it comes to art.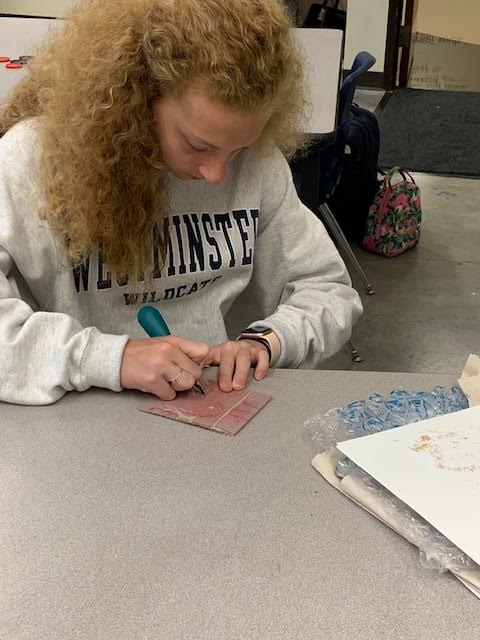 Featured Artist: Lily Wendel 
Art is, according to the German painter Gerhard Richter, "the highest form of hope." That being said, Westminster Christian Academy does not tiptoe lightly through art classes but instead offers wonderful opportunities for artists to grow. In an effort to highlight WCA's young artists, Lily Wendel, a sophomore with talent, has been chosen by beloved WCA art teacher John Sarra to tell us about her art. 
Wendel is currently taking Westminster's entirely new (2019/2020) Print Making class, in which she is excelling. According to her teacher, Mr. Sarra, she has been "particularly good at taking risks and trying new things." In response to courage being a staple in art, Wendel explains why it's important to take risks: "[Taking risks] just teaches you more about what kind of an artist you are and what you want to say with your project." Mr. Sarra teaches that even if branching out just solidifies that where you are is right for you, it never hurts to know where your talent lies – and if you have stable legs, using your voice becomes more natural and able to influence. Taking a risk in art costs nothing but is worth everything.
Wendel has a profound love for art because it is inclusive to everyone. Those who love drawing, painting, photography, printmaking, ceramics: they all have a place in the world of art. Art has met no stranger. 
Within the world of art, Wendel says she is personally inspired by Banksy, an anonymous street artist. She also, when experiencing art block, says she looks at buildings, street art, and landscapes- just scrolling through her camera roll can provide the push she needs and she recommends snapping a picture of the interesting things that surround us. "Usually things that grab my attention have intense, unusual colors or interesting patterns," Lily Wendel tells us, which is reflected in her own pieces. 
Parting with a little advice for fellow artists, Wendel expressed how important it is to explore the vast realm of art outside of your comfort zone. "If [an artist] is good at painting, try pottery; if you excel at drawing, try photography," she advises, explaining how she applies this to her own life. 
"I went to the University of Illinois this summer and participated in the Fine Arts Summer Intensive program for a week and learned about digital fabrication which used computer-aided design and water laser cutting. I chose this program because it was unusual and something I had never done before," said Wendel.
Wendel was able to experiment at the University of Illinois and grow as an artist. Through exploring different branches of art, people can further enhance their ability to make beauty and find new outlets for joy. Wendel teaches the importance of bravery in the creative process, the need to explore different mediums, and that no matter who you are, you have a place in art's home.