Ella Polski: The Drama Queen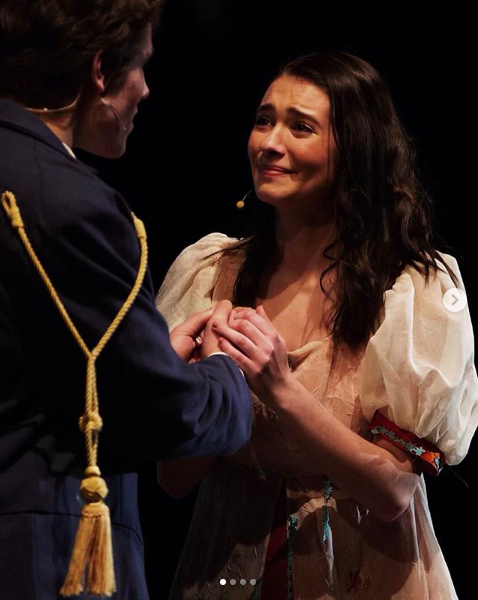 Ella Polski, junior, steals the show in her recent production, Twelfth Night, and continues to pursue her love for theatre.
The adrenaline pumps through the veins of the performers as they wait, standing behind the curtain. Ella Polski, junior, waits for the lights to come up and the show to start. She takes a deep breath, then steps into the spotlight, taking on the character she portrays.
Polski has always loved theatre but did her first show as an eighth grader in Alice in Wonderland Jr. as Small Alice. The show encouraged her to keep going with theatre as she developed a love for the spotlight and the people.
"I love that there's so much freedom in theatre with the different ways to play a character," said Polski, "when the hard work put into a show mixes with the creativity, it's so much fun and that's what I love so much about theatre."
Polski has been in seven productions and currently in her eighth show at Westminster. She recently finished Twelfth Night, as Viola, the main character.
"Twelfth Night was my favorite show because the language was so beautiful, the cast was so committed, and the story was such a fun one to tell," said Polski.
She also shared that while all the shows at Westminster have been a blast, Twelfth Night was one of the biggest productions she's been in.
"We had original music, an incredible set, and a professional come to design costumes. It was so special and such an amazing experience," Polski said. Polski went on to say that while she was unsure about Shakespeare and not much of a fan at first, she developed a love for the wording which also contributed to it being a favorite show of hers. Many who know Polski have described her as committed and passionate about theatre and that she is always doing her absolute best to embody a character.
"Ella is so dedicated to her performances," said Lauryn Rhodes, junior, "she dyes her hair for roles when needed and also is a choreographer for dance numbers in musicals."
Dance is another aspect of Polski's theatrical skills as she dances not only for shows but also on her own at her studio.
"I love to choreograph and do it for my friends at my dance studio in my free time as well as for Westminster," said Polski.
In the upcoming musical, Meet Me in St. Louis, Polski is a dance captain and choreographing two songs for the show. In the future, Polski hopes to continue in this line of work either as an actress or as a director.
"I hope to audition for colleges, but I know that is a hard career to pursue, so I at least want to look into film and/or directing as a major," Polski said.
Whatever the future holds, one thing is clear for Polski: she wants to continue to be involved with theatre in any way possible.
"I hope Ella continues with theatre because she is so talented and has an obvious love for it," said Rhodes.
Even though Polski looks forward to pursuing acting in the future, she still is enjoying her time with the people and shows at Westminster.
Theatre causes close friendships between cast members and results in many memories made. Polski shared several stories about the fun times she's had with the cast.
"One time during a rehearsal for You Can't Take it With You, Mr. Butz let us do whatever we wanted and not even follow the script. It was insane but one of my most favorite rehearsals ever," laughed Polski.
The connection between castmates is a close bond that grows over many long hours on the stage and through many inside jokes. We are all excited to go support Ella in her upcoming show and wish her the best of luck in her future endeavors.