Jack and Diane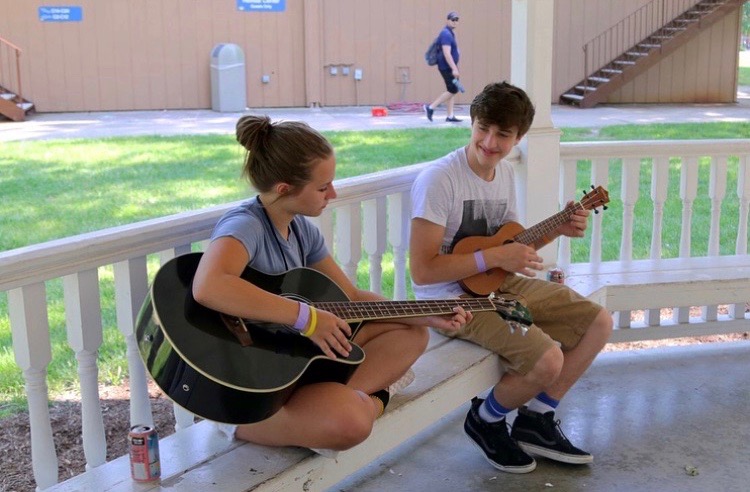 As the festive colors of Christmas decorate the Westminster Arena, Lance Johnson, junior, and Emery Iven, junior, sit side by side performing for the Christmas Banquet attendees. The couple had performed together plenty of times before, and have become well-known as some of Westminster's favorite performers.
Beside being a dynamic duo at school, Johnson and Iven are also both successful individually in their musical endeavors. For example, Johnson has been writing songs and playing guitar since first grade.
"I didn't really like it [guitar] at first, but my sister forced me to keep going with the lessons. In seventh grade I started playing bass guitar and that's when I really started to love it," said Johnson.
While Johnson dove into music in seventh grade, Iven has been singing for as long as she can remember and took singing lessons for a year in sixth grade. She also recently taught herself how to play guitar and the ukulele.
Now, however, Johnson is the lead singer and bass guitarist for his own band, Bleach. Formed at a music camp, Bleach consists of Johnson and his two bandmates, Jackson Steevens and Kaleb Mylenbusch, juniors at Fort Zumwalt West. Already they have begun playing at venues like The Ready Room, Gateway Motorsports Racetrack, Delmar Hall, and Blueberry Hill.
There are many artists and bands that inspire the musical style of Bleach, but some of the bands they most aspire to be like are Highway Suspect, Black Keys, and All American Rejects. Bleach also has several songs available for download on Spotify and Apple Music as well as a music video for their original song, "Elizabeth".
Iven has also become successful in her personal music career. As a youtube star and youth group lead singer, Iven does it all following her passion for music and her dream of success.
In eighth grade, she began singing on stage for her youth group at the Crossing church. Her talent quickly stood out, and she was soon asked to sing in services on the weekend, which she continues to do even now.
While, he is still unsure of what the future holds, Johnson hopes to continue pursuing music with his best friends.
"We're hoping to save up money and move somewhere after high school where we can write music and go on tour. The ultimate goal is to make money as a band and continue to do what we love," said Johnson.
Johnson admits that his friends and the supportive people in his life around him are what helped him get to where he is today.
"I love being in a band. I don't think I would ever want to go solo with my music," said Johnson, "it's really cool to be able to share a love for something with my two best friends, and I need those people by my side to help me be better."