NYC Summer Seminar: A Redemptive Exploration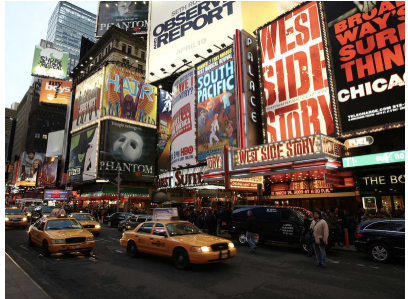 Hang on for a minute...we're trying to find some more stories you might like.
The Big Apple. Known for its bustling crowd, busy tourist attractions, and bright lights, New York City is the metropolitan hub of America. The gem of this landmark, however, is the famous Broadway strip, lined with theatres and protruding with eye-catching advertisements to entice romantics and intellectuals alike to their award-winning shows. Every year, a group of Westminster students travels to NYC for the purpose of exploring this theatrical paradise, but with a Christian perspective in mind.
In every WCA summer seminar, the chaperones work to implement discussions that apply the redeem-reject message the Bible department emphasizes. But in New York, the teachers took this to the next level after the viewing of each of the six Broadway shows. With every show posing new messages and themes, there was always something to discuss.
"Lead by Mr. Butz [every night], our group examined how we can watch these shows to be able to make thoughtful critiques and grow as human beings. We are trying to become culture makers and contribute to society in a way that showcases who Christians are meant to be," said Alyssa Pritchett, junior.
Without these nightly talks, "the trip wouldn't have been nearly as good," said Hannah Stevenson, junior.
Along with the analysis of the shows, students were encouraged to look for the creativity and beauty of God in each production, and how He was working to reveal Himself through them. Alyssa claimed that she "saw God through the actors and messages they portrayed" because "their amazing talents all come from God and reflect Him. Whether it was silly friendship in Spongebob or serious compassion in Come From Away, any audience member could pick up something about changing one's heart and actions for the better."
This beauty, though, was not limited purely to the production and actors in it; it was extended to the emotion and fervor displayed in, and after, the shows. "One show had a scene where the cast started dancing with so much passion. At the end of another one, the band came out on stage and played a song, with the whole audience clapping along. Moments like these were so touching to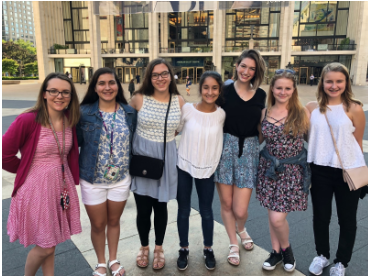 me because it was amazing to see little glimpses of heaven on earth," said Hannah.
After each show, students were forced out of the theatrical haven and into the concrete jungle. Though they experienced this switch several times, it never ceased to shock the system. "It was almost surreal to walk into a theatre after seeing the homeless people of the city on each corner, and then to be reminded of the hope we have in Christ, and how all of this pain will be healed through restoration," said Hannah.
Though the seminar was challenging in its demand to extract valuable lessons from the Broadway spectacles, versus to simply absorb entertainment, it proved to be a valuable experience that reaped the harvest of the Biblical worldview that Westminster so aches to meaningfully apply to students' filter of the world.