Westminster Welcomes Wee Wildcats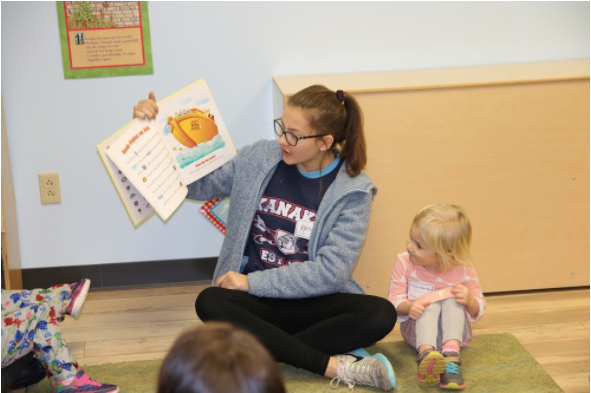 Teachers often seem like perfect, busy people that are always at school from early in the morning to late at night, whenever you need their help, constantly at your beck and call. But it is important to realize teachers also have lives, and they require time with their families and friends just like their students do.
Realizing the need, the student life team began a day of service called Wee Wildcats in which dozens of Westminster students gather at Covenant Presbyterian Church to care for the teachers' kids. This gives the WCA teachers and their spouses a few hours to spend time together, knowing their children are being well-cared for.
         "I love Wee Wildcats because it's a way to take your mind off of school and just have fun with kids. It's a very cool event because it's fun to watch how much fun the kids have playing around with you! They also get so close to you," said Jaela Ginger, sophomore.
         On Saturday Mar. 10, about 30 Westminster upper school students participated in a day of fun and relationship-building with the kids, ages 4 months to about 13 years. From Easter-themed crafts to tag on the playground to breaking out into a spontaneous dance party, the little ones kept their WCA buddies busy. Whether it was through reading stories, coloring, or kicking around a soccer ball, the high schoolers made an effort to connect with their buddies, and the event was a success.
"One [of the great parts of Wee Wildcats] is seeing relationships develop between the staff's children and WCA students. Both will often want to be matched back up together the next time because they enjoy each other so much. I think it also allows our students to see teachers and staff in a different light. And finally, it is wonderful to see WCA students mentor, care for, and encourage the children. They really do an amazing job and the children look forward to coming back each time," said Ashley Woodall, Assistant Director of Student Life.
Although it's just a few hours, Wee Wildcats allows students to show their teachers they care and desire to respect them through honoring their families. Westminster is unique in the sense that it thrives on a community of people who encourage each other through support and service.
"My daughter, Annie, was a baby during the first Wee Wildcats nine years ago, and it was the first time since our two-year-old boys were born that my wife and I could go shopping together," said Scott VonderBruegge, newspaper and yearbook teacher.
With the attendance of about 30 to 40 young kids coming to the program, many WCA students were given the opportunity to build a special connection with a few children, enhancing their relationships with their teachers in the process.
With the continued success of Wee Wildcats and the overall appreciation for the event from the teachers, students, and kids involved, there is no doubt that the event will continue next school year and hopefully many years in the future.