Pawprint Product Review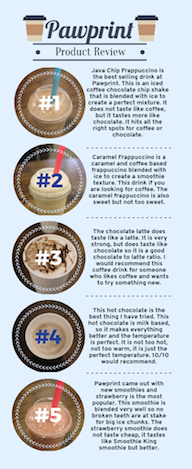 Java Chip Frappuccino: Java Chip Frappuccino is the best selling drink at Pawprint. All of the Frappuccinos are $4.00, but is 16oz so the amount is satisfactory to the amount paid. This is an iced coffee chocolate chip shake that is blended with ice to create a perfect mixture. It does not taste like coffee, but it tastes more like chocolate.      

Caramel Frappuccino: Caramel Frappuccino is a caramel and coffee based frappuccino blended with ice to create a smoothie texture. This drink has no coffee taste so do not get this drink if you are looking for coffee. The caramel frappuccino is sweet but too sweet, it is a perfect ratio.  

Chocolate Latte: This latte does taste like a latte. It is very strong, but does taste like chocolate so it is a good chocolate to latte ratio. I would recommend this coffee drink for someone who likes coffee and wants to try something new.  

Hot Chocolate: This hot chocolate is the best thing I have tried. There is just enough foam to even out the chocolate. This hot chocolate is milk based, so it makes everything better and the temperature is perfect. It is not too hot, so you do not burn your mouth, or not too warm, so it does not taste like chocolate milk. 10/10 would recommend.  

Strawberry Smoothie: Pawprint came out with new smoothies and strawberry is the most popular. This smoothie is blended very well so no broken teeth are at stake for big ice chunks. The strawberry smoothie does not taste cheap, it tastes like a Smoothie King smoothie but better.