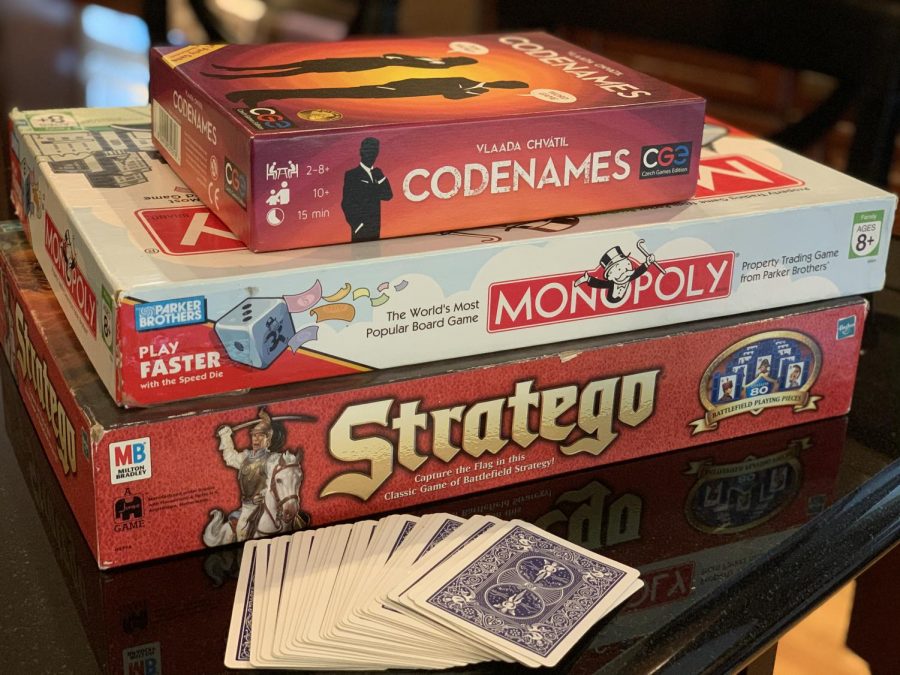 Top 10 Games to Play During Quarantine
With all the extra time being stuck at home with family, why not pull out a board game or a deck of cards and have some fun! Sometimes board games can get a bad reputation for being boring, but the key to having a good time is picking the right game. Whether it's an all-time classic or a new game straight off the shelf: we've got you covered with the Top 10 Games to Play During Quarantine.
Monopoly –

It might take a while to play, but it's definitely a fun game. However, make sure it doesn't end in family-wide tension.
Codenames –

Being one of the most popular, relatively new games on the market, Codenames will keep the family focused on each word and the strategy behind it. 
Fishbowl –

If you don't have any other games, it's not a problem because all you need for Fishbowl is a bowl, pencils, and pieces of paper. After all, how can you go wrong by combining teamwork, acting, and critical thinking all into one game?
Spades –

Try to take as many tricks as possible in this well-known card game, and always make sure to make an accurate bid.
Hearts –

If you would rather try to avoid getting points, Hearts is a great card game and lots of fun! However, it's even more fun if you avoid the Queen of Spades!
Apples to Apples –

Enjoy a classic game of silly comparisons with the family!
Clue –

Gather all the evidence possible to solve the murder mystery?
The Chameleon –

In this fairly new board game, the challenge is to blend in and try not to get caught as well as accuse those who are standing out. 
Stratego –

Use your best strategies to direct your troops into battle in search for the enemy's flag. Just watch out for any bombs!
Bluff –

In this card game, as long as you can fake it, you can make it. However, don't let your opponents catch your bluff!