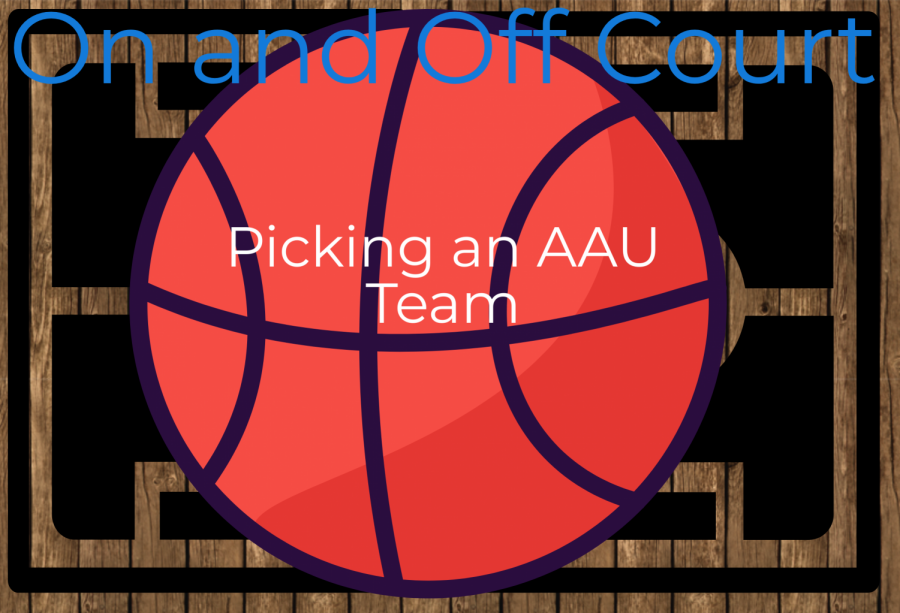 Picking an AAU Team
What is more important: being on the best team possible or standing out individually, even if the team has less recognition? There is no simple answer because it is all relative to each specific person. For most, a healthy balance between the two is the most beneficial to growth as a player and a person.
The summer after my freshman year, my dad and I decided that we needed to rethink what club team I would play for in the future. Growing up, I had always played with the Knights, a feeder team for the BlueStar club program and arguably Incarnate Word, although I did not attend there.
The expected decision was to join my Knights teammates on the BlueStar team. However, one of the main aspects that caused me to consider our rival program, the St. Louis Eagles, was their possible future inclusion into the EYBL circuit–Elite Youth Basketball League–the most prestigious title that an AAU girls basketball team could have.  
At every big out of town tournament that I would attend growing up, I loved watching the EYBL teams battle on the biggest courts with a multitude of fans and college scouts. I always dreamed about how it would feel to be a part of such a team, but I never considered it as an actual possibility, until now. 
That summer, the Eagles would be a Nike affiliate program, meaning that they, as well as several other teams, would be on the "bubble" and would have the chance to be a part of EYBL if they had enough success. In addition to this, I was also told that I would be playing a year up with several other girls and would be coached by Rich Gray, an old coach of my dad's and a very well-respected man in the St. Louis area. In my mind, my best interest in regards to receiving college exposure and encountering success was to leave the BlueStar program, including girls and coaches who I had been playing with for years, and join the Eagles that summer.
Although I was right in one sense, that my team achieved a lot of success and collegiate recognition, I was wrong in another. First of all, the program did not receive the EYBL inclusion. Because our 15U and 17U teams each had losing seasons (I was on the 16U team), they awarded the title to a more consistent program, one that my team defeated several times. 
More importantly, everything changed when Rich Gray, after undergoing surgery to remove a tumor in his arm, died unexpectedly due to complications. Coach Gray had been the deciding factor for my transition. He believed in me as a player and had a lot of positive changes in store for our team. However, when he passed, Jon Jon (everyone calls him by this nickname) took over and had other plans in mind.
While Coach Gray wanted to put me in the point guard position along with Saniah Tyler, a highly recruited 2022 player, Jon Jon didn't trust me to do anything but stand in the corner and shoot when passed to. Also, rather than running through disciplined offensive sets and working on moving the ball as we practiced with Coach Gray before his surgery, Jon Jon stuck to what he knew best and spent 99% of our practices on defense and allowed our guards to play 1v1 in games; it also did not help when a new player, Marshuan Bostic, an Auburn track and basketball commit, was added to the team mid-season at the point guard position.
After the summer was over, I knew that if I stayed where I was, I would not receive the opportunity to play division one basketball or any division at all. Because I had been so absorbed in the success aspect of the game, I had totally forgotten about one of the most important parts: having fun and building friendships. 
While I enjoyed being around the Eagles players, I missed my old teammates who I had grown up with from the BlueStar team, even though they hadn't had as much success or exposure that summer. As I touched on in my first set of blogs, I reached a point of burnout and desperately needed to recover the sense of thrill and growth that I had recently lost. 
This past summer, therefore, I switched back to the BlueStar program and played for my own age group, 16U. This was easily the best decision that I could've made. In those few months, I rediscovered the reason I chose to play basketball in the first place; I looked forward to every practice and every game, received a lot of recruitment despite coaches not being able to attend the games in person due to COVID, and grew meaningful friendships with my teammates. 
Although it varies for every person and there is no one right answer, I personally came to the conclusion that I would rather be one of the strongest players on a less well-known team than a weaker player on a more successful team. The most important takeaway from this is to never let outside factors cause you to lose sight of why you picked up a sport in the first place.