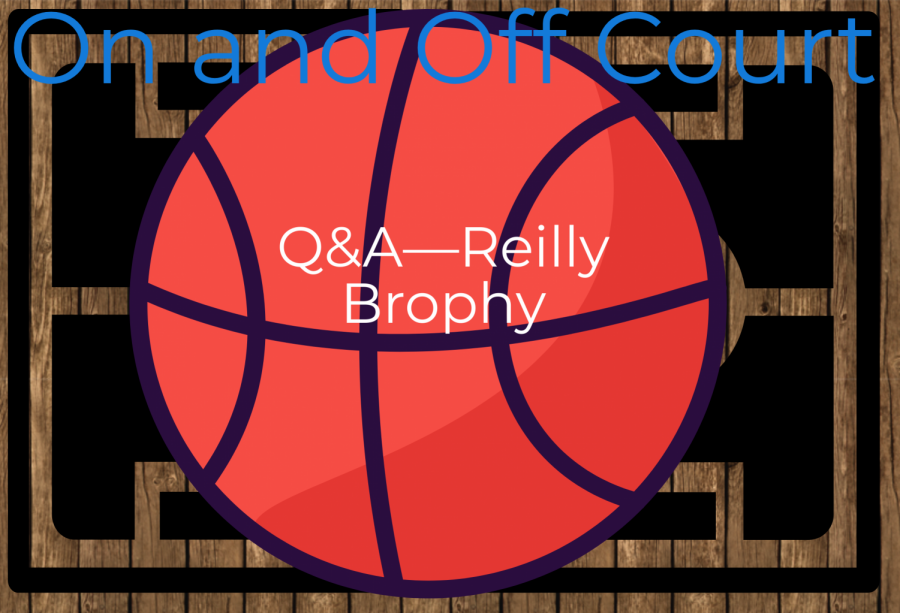 Q&A—Reilly Brophy
What made you want to pick up basketball in the first place, even though you come from a soccer family?
"In fourth grade, my mom made me choose between club soccer and club basketball, and my fourth grade teacher who was a basketball coach at the time influenced me to pick basketball, so I stuck with it ever since. Sometimes it's nice that my parents didn't grow up playing basketball because although they can encourage me to work hard, they can't get on me for the little things because they aren't super knowledgeable about the sport. The only hard part is that I haven't been able to bond with your parents like my brother has through sharing a sport with them."
How does school basketball differ from AAU? What are the pros and cons of each?
"My AAU experience has been all over the place, so school basketball is nice because it's consistent and I'm able to have a close relationship with my coach which allows me to grow and thrive in a lot of leadership opportunities. However, I love AAU because you're able to meet a ton of new people from different backgrounds and play with and against good competition. A con of AAU is the time commitment and money that it requires to stay involved. School basketball can be a lot more physically and mentally demanding because of the extensive duration of the season and practices throughout the year."
What is your best memory from playing basketball? What about your worst?
"My worst memory is definitely getting injured, specifically a stress fracture in my foot, and not being able to play for the majority of the season; I felt that I was letting my team down. I don't have a specific best memory with basketball, but honestly stepping onto the court and being able to play with my friends is a really fun and memorable experience each time."
Have you ever encountered burnout? If so, how did you overcome it?
"Yes, I experienced burnout in the summer entering my sophomore year of high school. I was not on the best team for AAU, and by the end of the season I was just done. Luckily, when the pandemic struck, I took a month "off" which relieved a lot of the pressure I once felt and allowed me to experience the joy that made me want to pick up a ball again, not because I was forced to."
What is one piece of advice you would give to young girls basketball players?
"Don't let your performance on the court define you as a player or a human being. It's important to remember why you play, never lose sight of that. However, if you do lose that, it's okay to step back for a while in order to find it again, even if that means taking a break."
If you could go back in time and change one thing about how you went about the sport, what would it be?
"I wish I hadn't been scared to join a new AAU team until this year. I felt somewhat obligated to continue playing with the program that I grew up with, rather than focusing on what was best for me and my career. I also didn't have the confidence to know that another team would want to take me in; I thought that I would go down hill. Overall I wish that I would've known that is is a good thing to have confidence and carry yourself with swagger. It doesn't automatically show arrogance."
Are you wanting to play basketball in college? If so, where?
"I would like to play in college, but if it came down to either basketball or academics I would choose academics. I am predominantly looking at low D1/D2 schools in California, such as Pepperdine, UC Santa Barbara, and Santa Clara. I am not looking for an athletic scholarship, so I would prefer to walk-on wherever I end up because I still want to play basketball but also want to be able to focus on other things at the same time."