Girls Varsity Basketball at Nerinx
This past Monday, January 23, the girls varsity basketball team took on the Nerinx Markers.  The cats took the lead at the beginning of the game and never looked back. At the end of the first quarter, the cats were up 17-10. The girls worked the ball around and gave the ball to senior point guard, Julia coleman. Coleman was dominant with the ball, driving in towards the basket putting up 5 points in the first half. Another big contributor was the team's leading scorer at half. Sophomore forward, Addie Kane showed her ability to put shots up from beneath the hoop. At half, Kane put up 10 points. Kane also contributed by visiting the free throw line multiple times 3 times in the first half alone. At half time, the score was 30-20 cats. In the second half the cats continued their streak. The cats continued to drive the ball under the hoop and managed to draw lots of fouls. The Cats managed to make the score gap big enough to put in the second string players and let them hold the score.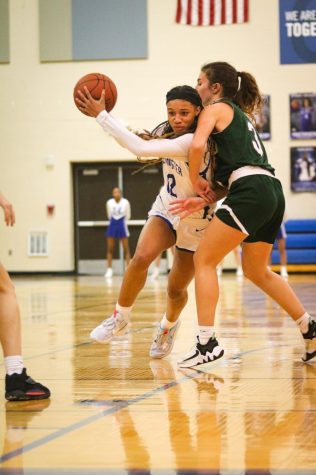 The second string players did manage to hold the score and kept improving on their score. Freshman Addie Drumm was a big contributor in the second half. Drumm was able to move the ball around and make great passes to her teammates and gave them the opportunity to put the ball up for a basket. The cats ended up winning the game 60-33 and improving their record to 9-6. The cats most notable players for the game were sophomore Addie Kane who finished with 18 points, junior Mia scheulen who scored 11 points, and senior Julia colemen who finished the game with 23 points. Overall it was a great game for the cats and they look to continue to improve their wins.