The Golden Team
The track team is building off of last year's success and chasing after a state championship.
Spring sports are in full swing, and one sport already has a lot of expectations riding on them. Last year, the track team's points mainly came from distance and throws, but this year, the sprints are anticipated to be very successful.
"There's a great opportunity for both boys and girls to have team success due to the large number of returning athletes and new additions to the track program," said Larry Minner, fourth-year head coach.
In the off-season, a number of these returning athletes participated in the indoor track season, something that has never occurred in Minner's six years of coaching.
This season, there will be a variety of different events that will all contribute to what is hoped to be a state championship victory.
Madison Schofield, senior sprinter, and Mia Scheulen, sophomore sprinter and jumper, are both returning athletes that qualified for the state track meet last year.
Addie Draper, junior, and Hennessy McGowan, sophomore, are both middle distance and distance runners and each were a part of the 4×400 meter relay team that placed second at state last year.
Some new additions to this year's team include Brooke Moore, senior, who recently signed with the University of Minnesota for track and field, will participate in hurdles and jumps along with Hannah Gray, senior, and Sydney Burdine, junior, in sprints.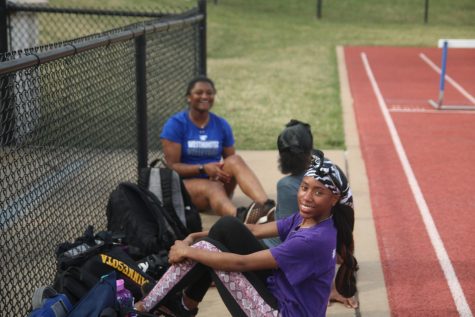 Tucker Mulick and Robert Hines Jr., seniors, have been some strong state contenders. Hines currently holds the school record in the 100 M, and Mulick placed third in the 200 M at state last season.
LJ Minner and Sterling Webb, seniors, are throwers that gain a large number of points in meets. Minner, the coach's son, holds the school record in shot put and discus, placing second last year at state. Webb placed sixth in the shot put at state.
Tim Shoemaker and Thomas Davidson, juniors, are strong athletes in middle distance and distance, Avery Jones, senior, will be participating in jumps, and Joseph Anderson, sophomore, will compete in both jumps and hurdles.